Father's Day is approaching! You are looking for gift ideas or you're a hard-working dad wanting to treat himself to celebrate the day? Then get a game from our list, throw in a PLITCH Premium subscription and you have the perfect gift bundle! We at PLITCH want to show our gratitude for all the efforts dads make each day by providing the trainer for two of the suggested games for free on Father's Day 2022. There's definitely something on our list for every dad out there who loves gaming, regardless if they prefer action, shooter, strategy, or indie games! Keep reading to find a lot of different recommendations.


1) Forgive me Father
Have you ever wondered what it would feel like to live in a world created by H.P. Lovecraft? Well, now you can try! The atmospheric roguelike FPS Forgive Me Father offers exactly that – including a mesmerizing retro comic book 2.5D look. The game is definitely not for the faint-hearted since the environments and the sound design add a lot of creepiness to Lovecraft's gothic horror world.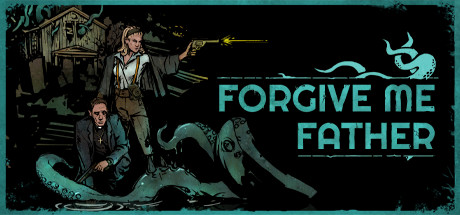 Forgive Me Father
Eight different weapons can be unlocked and upgraded in the course of the game. The gameplay includes the exploration of different environments as well as fighting against relentless waves of enemies, and thus reminds us of classics such as Doom or Wolfenstein 3D.
If you need help battling your way through the twelve levels of the game or you want to make sure your loved one doesn't get too stressed out while playing, adding PLITCH Premium to the gift is a great idea. The game can be customized with our Forgive me Father Trainer which includes 29 codes! They enable you to set your XP or make sure that you'll never run out of ammo. For ultimate invincibility there's also our Godmode cheat! 'Cause let's be honest, what's scarier than being vulnerable in a world that sprang from H.P. Lovecraft's imagination?


2) Dune: Spice Wars
If your dad is a fan of strategy-games as well as the world of Dune, this game is the right choice! In Dune: Spice Wars, a real-time 4X game, you have to lead your own faction in a battle for control over the desert planet Arrakis. The developers managed to incorporate the Dune lore very well into the game and the map looks fantastic. The player has the ability to choose between four factions, each of them differing in combat, politics and exploration. This variety makes the game enjoyable for all players. But remember, no matter how powerful you are, you still have to watch out for the gigantic, lethal sandworms.
If you want to make sure that your dad wins the war in Dune: Spice Wars and is able to manifest his way at the top, our PLITCH all-in-one trainer for the game is the way to go. It includes a whopping 31 cheat codes which can help with resources, easy kills or Godmode. In case your dad likes a challenge, he can also use the trainer to make the game harder!


3) DOOM Eternal
Friends of action-shooter-games sure have heard of DOOM before. It has been around for years and was rebooted in 2016. In 2020, Bethesda released the latest member of the DOOM family – DOOM Eternal. The first-person shooter is as violent and gory as ever and the new graphics are looking great! The story is simple: Armies of unrelenting demons are overrunning earth and you have to stop them. It's an extremely intense shooter with a lot of violence, scale, speed and volume.
There's a heavy focus on resource management in DOOM Eternal which can be exhausting regardless of the difficulty level. If you want to treat yourself to the game and play it to relax after a long day of work, we recommend our PLITCH trainer so you can focus on mowing down your enemies one by one without ammo shortages. We offer 21 cheat codes and quite a few of them are free, e.g. the Infinite Ammo cheat. PLITCH Premium gives you the opportunity to adjust the game even better to your needs, e.g. by removing your weapon cooldown, or enabling one-hit-kills or Godmode.


4) Anno 1800
To this day, Anno 1800 is the most popular game on PLITCH – for a good reason! Similar to Dune: Spice Wars, we recommend it for all the dads who like strategy and simulation games. Plus, if your dad is interested in historical events, he will enjoy it even more. In Anno 1800, he is able to create a new world according to his wishes and desires. Let him dive into an era of history filled with groundbreaking discoveries and technological progress.
As the game can be a bit overwhelming at the beginning, check out our tips and tricks guides regarding money and diplomacy in the forum if you want to gain a deeper understanding of the mechanics. Moreover, big real time strategy games such as Anno involve a lot of down time during gameplay which can get boring and frustrating fast. As a brainwave study has shown, PLITCH is a simple remedy for that! Make sure your dad won't have to deal with any negative experiences by gifting him PLITCH Premium. Learn more about the study on our blog.


5) Tunic
When you see a picture or video of Tunic for the first time, you may think that the little fox kind of looks like Link from the Zelda franchise but, you know, as a fox. Similar to Link, our little fox friend is a brave adventurer. The action-adventure Tunic will amaze you with its beautiful world full of ancient mysteries and deadly creatures. You'll have to face off against giant beasts, discover powerful relics, and unravel long-lost secrets.
If you want to get the game for Father's Day, there is also the possibility that your kids might be interested in watching you play since the game looks so cute. They can even have a go at it themselves! What a nice way to spend this special day together with your little ones. Don't let the charming exterior of Tunic fool you, though! The game is very hard, which means you should definitely consider turning on PLITCH when you're letting your kids take over. There is a total of 10 cheat codes to make the game even more enjoyable for you and your kids, e.g. by activating the Unlimited Ammo cheat or Godmode.
Since Father's Day is not celebrated on the same day all over the world, the PLITCH trainer for Tunic will be free on May 26 as well as June 19! Have a nice family evening enjoying this cute but challenging game together.


6) Forza Horizon 5
Buckle up and dive into the world of Forza Horizon 5! This challenging racing game offers a mesmerizing open world for you to explore. The developers have outdone themselves by making sure every drive is special. It's hard to concentrate on finishing first when there are so many amazing scenic views and landscapes to discover. They are paired with an incredibly dynamic weather system, so driving around in this adventurous world feels incredibly realistic.
To make sure that you have a very special Father's Day, the PLITCH trainer for Forza Horizon 5 will be free on June 19 in addition to the Tunic trainer! The included codes will help get the most out of the game as it can be quite hard to beat if you are new to racing games. If you want to gain a deeper knowledge about the game, check out the tips and tricks guide in our forum as well. One thing is for sure, including PLITCH Premium in your gift bundle for Father's Day guarantees a frustration free gaming session for your dad in over 3300 games.


We hope there was something on this list for your dad, or, if you are a hard-working dad, maybe you found a game that you want to get for yourself. You deserve it! Have a great Father's Day.
Happy Gaming!