Happy National Foodies Day! Today, we celebrate our love for food and we from PLITCH want to use this as an opportunity to showcase games where food plays a key role! Whether you're looking for something challenging such as Overcooked, or you're an aspiring baker and want to try Bakery Simulator to see what it feels like, there is a game for everyone! Even those of you who are into horror games will find something on this list. So, let's get started!


Cookageddon in Overcooked!
The Overcooked series includes some of the craziest cooking games out there. If you want maximum excitement while handling food, you should try Overcooked! All You Can Eat, a bundle that contains the main games Overcooked! and Overcooked! 2, as well as some additional content in amazing 4K graphics.
The story is basically the same as always: you have to complete food orders as fast as possible by going to the correct work stations within the kitchen. The order, including the necessary ingredients, is displayed on the top of the screen. Some meals include several ingredients and therefore it will take several steps to produce them. Also, in some cooking studios, obstacles are in your way which will definitely make you sweat.
In Overcooked! 2, the cooking madness gets taken to the next level. Expect dynamic levels where the whole stage moves around during gameplay. You'll also get to cook in some very extraordinary places such as a hot-air balloon or a mostly destroyed sushi restaurant.
In case things ever get too heated, you can use our PLITCH trainers for Overcooked! All You Can Eat or Overcooked! 2. The former includes cheat codes such as the ability to chop faster or to freeze the timer. For those of you who want the game to be even harder, we have two hardcore cheats with which you can reset your score and your tips to 0. Happy cooking madness!


Neon Noodles – Cyberpunk Kitchen Automation
Neon Noodles is a complex cooking game, similar to Overcooked! 2, where you have to cook meals based on complicated recipes. What makes the game interesting, is its unique setting – it takes places in a dark, mysterious cyberpunk world in a not-so-distant future. You have to manage a kitchen full of robots that will help you prepare the dishes.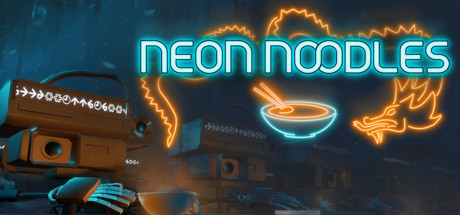 Neon Noodles - Cyberpunk Kitchen Automation
The main focus of this game is the automation process. You'll have to control your robots in the best possible way and teach them recipes in order for them to help you run the kitchen smoothly. Also, because this is a simulation-puzzle-game, there are open-ended puzzles with over 100 recipes waiting to be solved!
If things become overwhelming and you need help managing your kitchen, PLITCH offers a free cheat for Neon Noodles which will help you complete your goals.


Bakery Simulator – Guaranteed to bake your day!
Have you ever wondered what it would feel like to be a baker? To wake up before dawn and create a number of different baked goods that will bake…er…make other people's day? Then we've got just the game for you! Bakery Simulator lets you experience the life of a baker with all its ups and downs. The developer's goal was it to make the game as realistic as possible – and they've succeeded.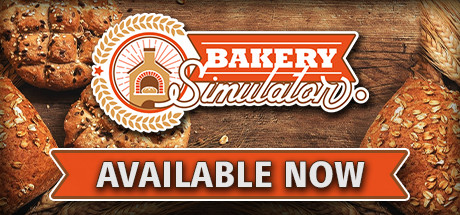 Bakery Simulator
There are a lot of recipes to be learned but you are also able to create your own! You are able use whichever ingredients you like and experiment as much as you want. Of course, money is necessary to keep the bakery running, so orders have to be delivered to stores around town. The income can then be invested in your bakery.
You're feeling overwhelmed by all the daily tasks that are waiting to be completed? Our PLITCH trainer for Bakery Simulator can help you with useful cheat codes. Whether you want infinite time to complete your job, or add experience or reputation – everything is possible. With PLITCH, you can customize the game in whichever way you want. You can also make it harder if you want to be challenged even more on your way up the bakery ladder.


Cooking Simulator - Quality and Speed are what count

If you prefer cooking over baking, check out the indie simulation-game Cooking Simulator. There's a selection of over 60 recipes and 120 different ingredients to create the meal of your dreams. The game also features a career mode where you have to produce satisfying dishes for your customers in order to collect points. After gathering enough of these, a restaurant critic will visit you and rate your food. If they like it, you'll get a star for your restaurant.
Also, at the end of each day, you level up one or two levels which comes with different perks you can choose from. If you're, e.g., very clumsy and are known for breaking plates (it happens to the best of us), then you can pick a perk that makes your plates unbreakable. If only that was available in real life!
PLITCH accompanies you on your journey to become the best chef with a whopping 22 codes. So, there are many different ones to choose from, such as adding cash, cooking points or skill points, or a code which helps you by instantly repairing your items. If you're looking for a challenge, you can use our Hardcore cheats, such as resetting cash or skill points, which are free! Let's get cooking!


Cook, Serve, Delicious!! 2 and 3!?
Two more amazing cooking-simulation games are Cook, Serve, Delicious!! 2 and 3!?. In the second installment you get to build your own restaurant according to your wishes. It's about 60+ hours of gaming fun in which your restaurant evolves to a world-famous star establishment. There are over 180 different foods, side dishes, drinks and desserts for you to choose from!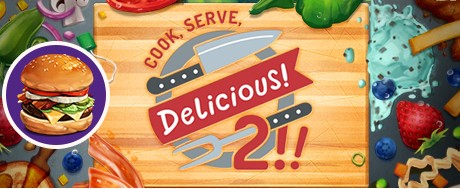 Cook, Serve, Delicious! 2!!
The setting of Cook, Serve, Delicious! 3!? is quite different - you're driving your very own food truck across a war torn America in 2042. During your journey, you'll sell hundreds of different food combinations to hungry customers. But beware of the marauding foodies who will attack your truck from time to time!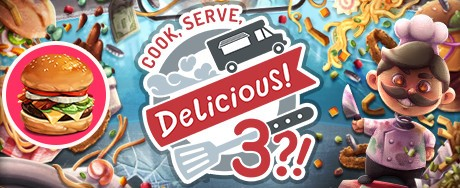 Cook, Serve, Delicious! 3!?
If you need help satisfying all of your hungry customers or you want to build your restaurant even faster, check out our money and timer cheats for Cook, Serve, Delicious! 2!! and 3!?. With PLITCH, you will have the restaurant of your dreams in no time, and no trouble fulfilling the orders of your food truck customers!


Ravenous Devils - a different perspective on food

Last but not least, we want to introduce a game for those of you who like food and horror. In Ravenous Devils, a horror cooking simulator, you get to play Percival and his wife, the managers of a tailor shop and a corpse-cooking business. The tailor shop serves as a bait to lure customers in who then get thrown down the trap door into the kitchen. But, obviously, not before stealing their outfits first to make new clothes for your shop.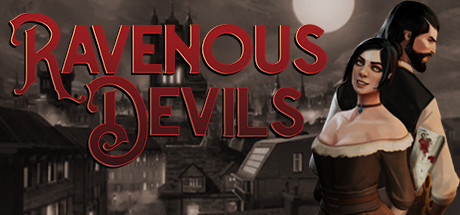 Ravenous Devils
Our very own streamer, rawakahn, has played the game recently on her stream. Let's hear what she has to say: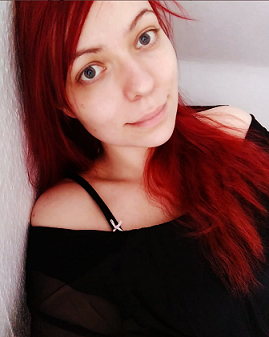 "Right after seeing the Ravenous Devils trailer, I got excited for its release. Once I started playing, the game turned out to be so addictive that I completed it in one go – I just couldn't put it away! The gameplay is simply amazing; Managing two separate shops simultaneously is very challenging and highly rewarding when pulled off. The graphics style, the characters and the incorporated humor make everything come together beautifully. Just don't think too much about where the meat is coming from… Either way, I highly recommend this game to anyone who enjoys management simulations. Once you're through, you'll wish for more."
She will be streaming the game again tomorrow on the PLITCH Twitch channel, so make sure to check it out!
We hope there was something on this list for you to spice up your day! Enjoy the Foodies Day with some great food as well as amazing food themed games.
Happy Gaming!