Hallo! Hello! Merhaba! Bonjour! ¡Hola! Cześć!
For the mathematically initiated, that's SIX languages up there. And all of them are supported across the entire PLITCH ecosystem from now on! PLITCH has been available in German and English since day one. Still, after investing a lot of time and resources, we added Turkish last month and recently were able to add full support for French, Spanish, and Polish languages.
Here's how you can switch languages in the client:
1. Start the client
2. Click on the gear symbol on the left
3. Go to "Interface"
4. Click on the arrow symbol next to "Language"
5. Choose your preferred language
6. Save your changes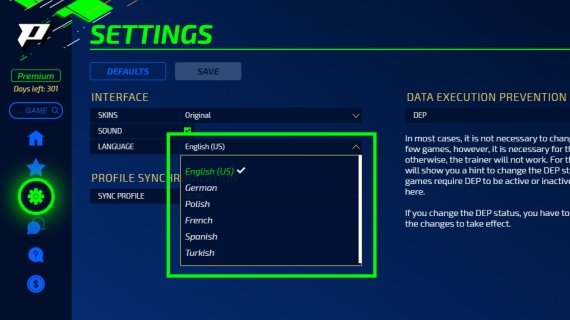 The Language Section in the Application Settings of the PLITCH client
Each new language we added took us roughly three and a half months to implement and required us to expand our team to ensure that everything goes smoothly. But what exactly does full language support mean? Well, it means that all of the following elements and services are now available in the new languages:
- Desktop client
- Companion apps (iOS, Android, and Xbox Gamebar)
- Game descriptions for more than 3000 titles in the PLITCH library
- Meta descriptions
- All pages on plitch.com
- All customer support
- Subtitles in videos uploaded to the PLITCH YouTube channel
But our work isn't over yet: because PLITCH continuously adds new games to the library, there's always more for us to translate! The ongoing support for multiple languages is a massive milestone for us, and we hope that it encourages more people to give PLITCH a try!
Bug Bounty
To those of you who have supported us along this way: Thank you! While we have worked hard to ensure good translations, it certainly helps to have other eyes. So, if you know one of the new languages we've added and happen to see any grammar or spelling errors on our website, client, or apps, we encourage you to let us know. If you need a little motivation, we'll give you one free day of PLITCH Premium for every mistake that hasn't been reported yet.
If you find an error, please follow these steps:
1. Go to plitch.com/en/Support or to our support section in the client and open a new ticket using either the category "Website" or "Client".
2. In the subject line, indicate the issue and the language. For example: "Grammar/spelling error in French translation."
3. Describe the mistake and where you found it. For example: "On the page for Cyberpunk 2077, there is an error in the description of the game. In line 12, there is the following error[...]". Or feel free to upload a screenshot if you've opened a ticket on our website.
4. Describe the correct grammar/spelling.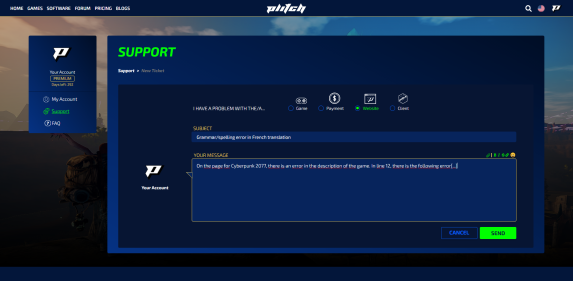 The ticket section on our website
As PLITCH grows, we want the number of users that can use PLITCH in their native language to grow with it. As we've said time and time again, everyone should be able to fully experience and enjoy the single-player games that they buy. Language should not be a barrier to that.
Happy PLITCHing everyone!
Auf Wiedersehen! Goodbye! Hoşçakalın! Au revoir! ¡Adiós! Do widzenia!