A day to proudly celebrate your geekiness – that's what Geek Pride Day is. And since there are a lot of geeks in the PLITCH team, we asked them to talk a little about their interests – how they got into it and what fascinates them about it. Enjoy this more personal blog and have a happy Geek Pride Day!


Chi
First up is Chi, our marketing manager and streamer. She has so many geeky interests that we could fill an entire blog with them. Besides a passion for gaming, which led her to the job with us, she is very interested in manga, anime, Yu-Gi-Oh! cards, cosplay and the Marvel universe.
For Chi, the passion for manga and anime was already present when she was a child. "Every day after school, I wanted to quickly get in front of the TV so I wouldn't miss the new episode of Pokémon, Yu-Gi-Oh! or Phantom Thief Jeanne," she says. Although she then lost interest for about three years when she was in 5th grade, it came right back when she happened to discover an episode of Yu-Gi-Oh! on TV. To this day, it's her absolute favorite manga and anime. Chi's love for manga has persisted, and she now has over 800 volumes on her shelves.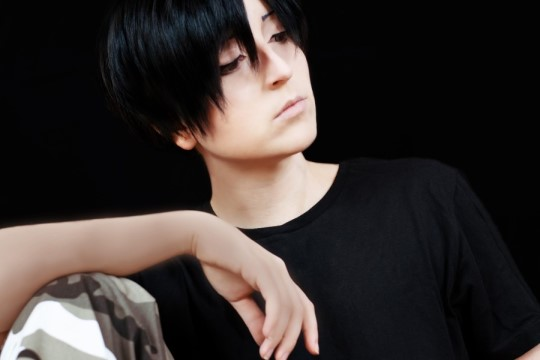 Chi as Levi Ackerman from Attack on Titan
She also still raves about Yu-Gi-Oh! "To this day, I love sitting in my apartment and flipping through my 2000+ cards. Every single one of them is super beautiful and unique. I'm always putting together new decks, only to never play with them," she laughs. Chi is particularly fond of the blue-eyed white dragon, who is also responsible for these being her favorite mythical creatures.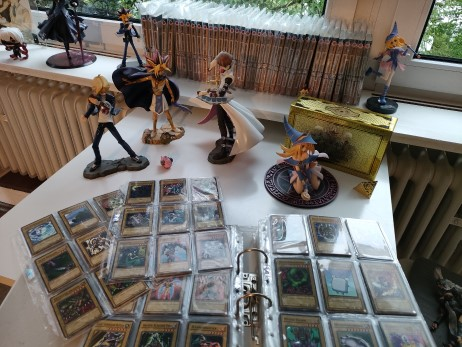 Chi's Yu-Gi-Oh! collection
Chi's enthusiasm for manga and anime ultimately led her to learn about conventions for the first time in 2011, where she began cosplaying. "I just love slipping into other roles, for a while you don't have to be yourself anymore, you get to take on the role of your favorite character," she says. In addition, it is always an adventure for Chi to work on her costume until shortly before the convention in order to get it ready in time. It's not unusual for her to arrive at the event completely exhausted. However, since she always meets friends from all over the world there, the tiredness is quickly forgotten.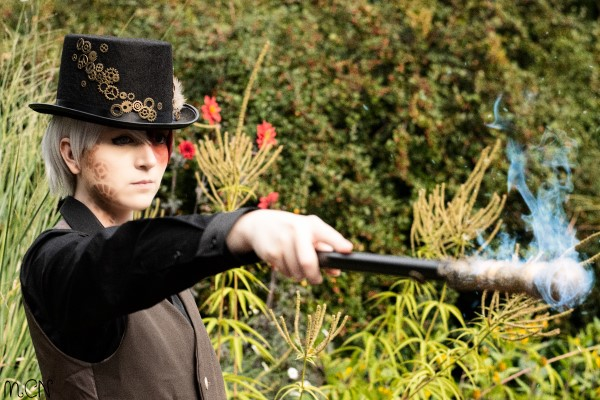 Chi as a steampunk version of Todoroki from My Hero Academia
Chi is also passionate about the Marvel Cinematic Universe (MCU). "When my sister made me watch the first Captain America movie, it was love at first sight. I've since seen each of the movies at least ten times except for Endgame, which I still can't get over. Anyone who has seen it will definitely understand." She finds it particularly fascinating that the heroes are anything but perfect and that Marvel shows very realistic characters with rough edges.


Alexandra
"Hi, I'm Alexandra and I've been working for MegaDev for a little over a month now. I'm a Junior Content Creator which means I write a lot of texts and translate them either into English or German," she introduces herself. Ever since she was little, Alexandra enjoyed reading and writing. Pair this with her interest in gaming and you'll understand why this is the perfect job for her.
She has always been interested in reading books and, similar to Chi, Alexandra is very much into manga. "It's the first thing I talked to Chi about," she laughs. "Although my collection is not quite as impressive, I'm currently sitting at around 250 volumes." Even though she had liked reading for a long time, she "only" read about one book a week or every other week before the beginning of last year. "In April 2021 I discovered 'BookTube,' so people on YouTube who talk about books. I didn't know this existed until then. Seeing people talk about all their favorite books made me want to read more."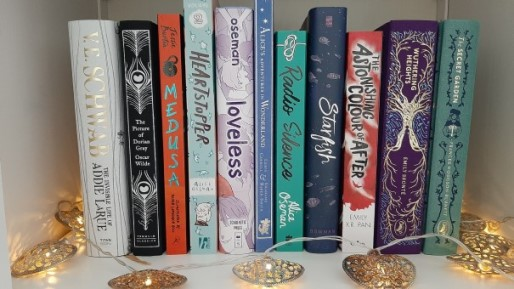 A few of Alexandra's favorite books
Not long after that, she also came across videos of YouTubers who speak about manga. "It's not that I never came in contact with manga or anime before, I watched a lot of Pokémon when I was little and I bought my first manga series in 2017 because a friend recommended it. It was Death Note, which is now considered quite a manga-classic," Alexandra recalls. Ever since then, she has discovered a lot of different manga series and genres. One of her favorite things about collecting manga is seeing all the different art styles, stories and characters. "I have to slow down a bit though, if I keep buying this many books and manga, I have to move soon," she laughs.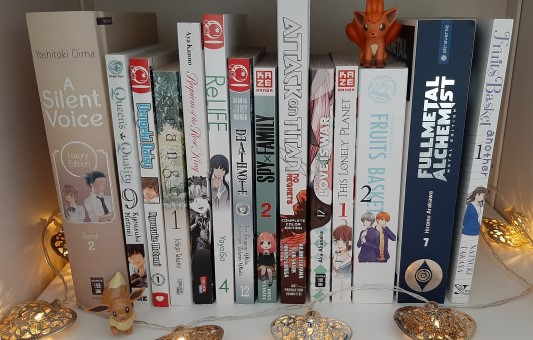 Some of Alexandra's favorite manga series


Rawa
"I don´t know what's considered geeky… To me everything is normal." – Rawa, Content Manager and Streamer for PLITCH (2022).
What a statement to start with! We get it, though. Being surrounded by like-minded people in your day-to-day life does make even the geekiest things seem normal. However, Rawa does notice some weird looks going her way when talking about her favorite things in the world. She describes their reactions as: "They stare at me like a deer in the headlights," which says it all.
To give you an insight about why Rawa's likes can be a bit astonishing, we need to take a look at her childhood: As she has older siblings, they introduced her to the stuff that was cool a decade before she was even born. This would explain why her favorite superheroine is She-ra and among her favorite games you will find many titles for the Super Nintendo such as Donkey Kong Country 2, Secret of Mana and Plok!. Be honest, did any of these ring a bell for you? Anyway, many of her peers haven't heard of any of these old-school games or characters before, which explains the bewilderment clearly visible on people's faces after they get to know her.
For a few years now, Rawa's biggest hobby is live-streaming video games, which also derived from when she was a little girl watching her older siblings play. "It's just so much more fun sharing a game experience with someone else!", she tells us as her eyes light up. On stream, you will catch her play old as well as modern games from all kinds of genres. One of the titles that made a strong impression on her was Bioshock and the creepy but cool little sisters, so it's no wonder that Rawa's entire Twitch channel is Bioshock themed.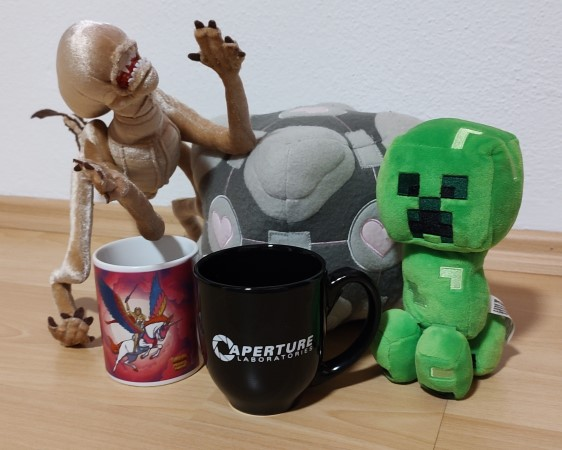 Rawa's geeky collection
We could keep going with geeky things about Rawa but let´s sum it up with one last noteworthy item in her collection. We must say that she does have some pretty cool plushies displayed in her humble home, however the geekiest one next to the Minecraft Creeper has to be the Chest Burster which she lovingly named Heinrich, after the Alien in her favorite Nintendo 64 game Conker's Bad Fur Day. Rawa's cat makes sure that everyone is safe from the threat posed by having a Xenomorph around. Afterall, its name is Ripley.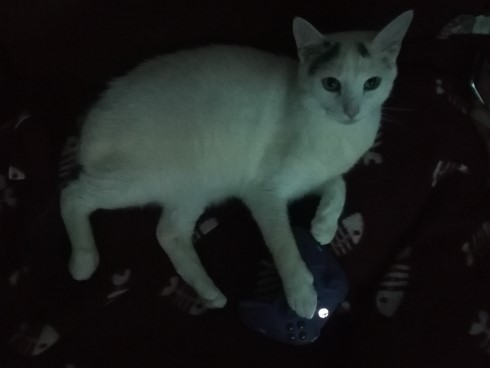 Rawa's cat Ripley

Madga
Our digital media designer and video editor, Magda, has been working for MegaDev a little over a month now. "I never saw myself as a geeky person, but then again, it wasn't me who gave me that label, but others, like my family and friends," she tells us. Magda already had a love for drawing and comics ever since she was little. When she was six years old, she discovered anime and got her first gaming console, an Atari. "Since then, I just keep falling down the geeky rabbit hole," she laughs.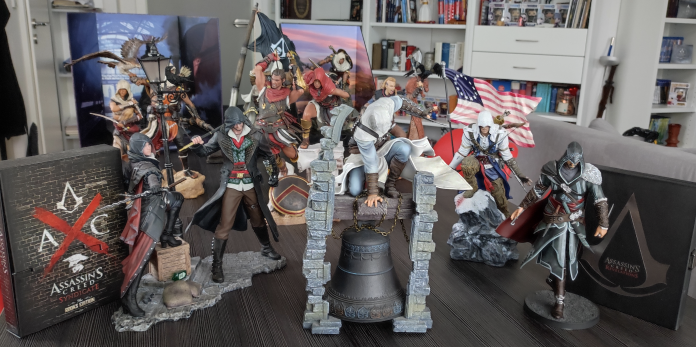 Magda's Assassin's Creed Collection
When she met her husband back in 2008, Magda was truly happy that she found someone who shares her love for video games, Lord of the Rings, and just geeky stuff in general. "Back then we both started playing the Assassin's Creed series and fell in love immediately. By now we have a big Assassin's Creed collection of figures and memorabilia that we are super proud of," she gushes.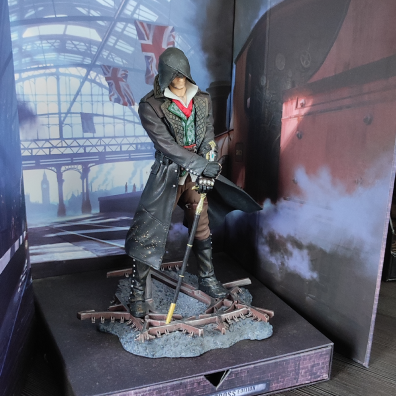 Jacob Frye from Assassin's Creed Syndicate - Charing Cross Edition
"So, my dear fellow geeks, never stop being yourself nor feel ashamed of the things you like and care about. The right people will find you!"


Max
Then there's Max, who has been part of the PLITCH family for about a year and whose heart beats for online marketing, SEO and creating websites. "What I find fascinating about it is that just by being enthusiastic (although a bit of brains, perseverance and a notebook are also helpful) I can make a project happen - from the first idea, a rough design and the first text to a helpful website for the user," he says.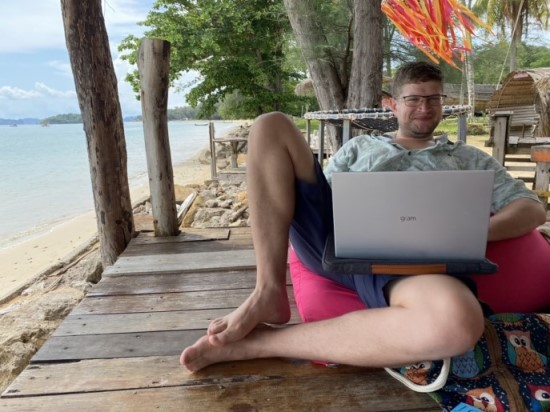 Max doesn't go anywhere without his notebook - not even to the beach
Max has spent many of his off-hours and weekends creating niche websites. In the process, he often learns a lot of useless fun facts, such as that you don't need a qualification to become a detective (binoculars are enough) or that most German people get drunk at their bachelor parties and walk around with a vendor's tray.
"So, do what makes you happy and happy Geek Pride Day!"