Goooood Eeeeevening, traveler! Come in out of the cold and warm up by the nice, toasty gaming PC. Yes, yes, you have had quite the journey, using various PLITCH codes to make your games easier, saving yourself precious time and sanity. You faced off against The Nameless King in Dark Souls 3 with the power of unlimited health and trampled through your competition in Far Cry 6 with a little help from vehicle godmode. But, I'm afraid that time is now at an end.
You see, I have outfitted your PC with free access to the most devilish cheats from the most ghoulish games! And with it, the PLITCH-ing hour has BEGUN!
From dawn on October 28, all the way until the midnight hour on November 1, you will be able to customize the most sinister games on PLITCH for FREE! Peer into my crystal ball and see the games that will be featured, but I'm afraid it will not help you escape the frights that await you.
- Outlast
You may have made it through Resident Evil Village alive the first time, but how will you fare once your inventory and Lei currency are reset? Not so well, I think! Do not worry, for the Lycans cannot hurt you — but I can make no such guarantees about what lurks within the shadows.
This time, however, even PLITCH won't let you catch a breath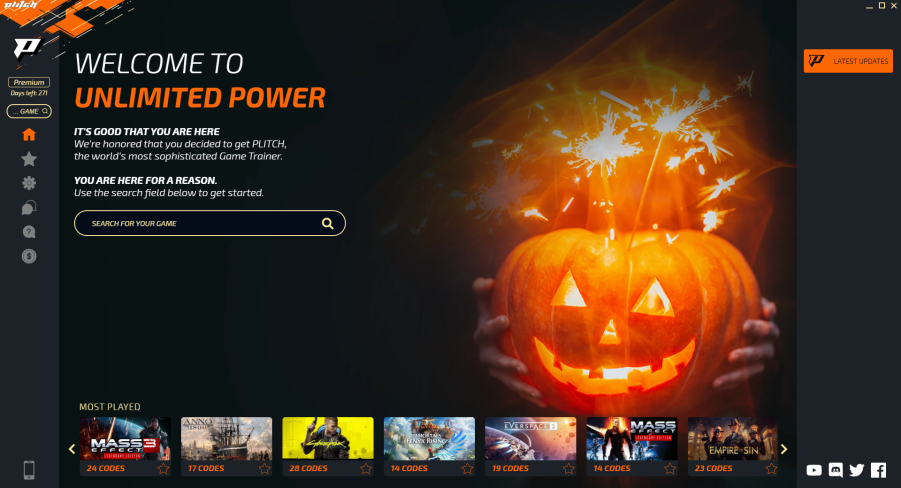 If you think that you can simply avoid the scares that the PLITCH-ing hour brings by rifling through the menus, think again. The entire PLITCH client is outfitted with a new spooky skin that features eerie sounds whenever you turn on a cheat.
You may as well turn off the lights, get comfortable, and try to make it through the weekend with your wits intact. Although, hahaha, I would not count on it!
Happy PLITCH-ing!