Finally, after months of waiting, you dropped your latest highly-anticipated game into your shopping cart and are ready to install it on your PC. Full of anticipation, you play the first few hours but then run into a problem that even in-game options can fix, no matter how extensive they are. What are you going to do in order to enjoy the game anyway?
The year is 2020 and as a massive gamer you're excited for every release — you follow launch news, watch every trailer, even pre-order games so you don't have to waste a second waiting to play them. Finally, the day arrives and you boot up the opening scene of Hades and it is exactly what you were hoping for — a stylish romp through hell, full of charismatic gods and gorgeous visuals. That is, until you get stuck battling the boss duo of Theseus and Asterius, and decide to take a break. It's fine, you say to yourself. You'll come back someday. But really you're at the start of a cycle: a cycle of frustration and squandered potential. After Hades you jump into Assassins Creed Valhalla, but ten hours into the game, you decide to stop. It wasn't the challenge you hoped for. But there's nothing to worry about because Cyberpunk 2077 is finally out after eight years of waiting! You boot up the game and after playing and enjoying it for 15 hours, get frustrated. The currency is too hard to come by. You assure yourself that with all these games, you'll get your money's worth eventually. But you never feel like you really did. At least that was the case before PLITCH.
Available to try for free, with the premium version priced at a pleasant $5.99 US a month (over a year, that's the cost of just one game!), PLITCH is here to elevate your gaming experience in thousands of single-player PC games — and we're not talking about shovelware titles — this is AAA stuff. PLITCH's vast catalog includes the hottest and most critically acclaimed games in the world. This includes new releases like Cyberpunk 2077, Immortals Fenyx Rising, and fan-favorites like Red Dead Redemption 2, Grand Theft Auto V, Cuphead and Civilization 5. The best part is that you can play them all to their true potential for the same price as a physical game's warranty.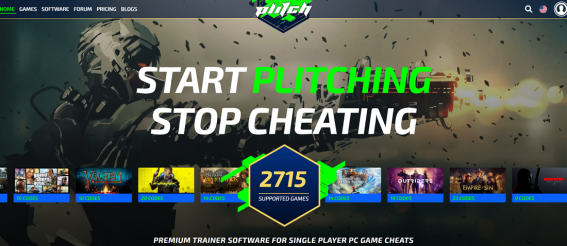 With PLITCH, you simply download our secure software once and you're ready to start playing one of the thousands of compatible games. Other software requires you to download specific customization options separately that often come from dubious sources that are often packed with Malware. We want to elevate your gaming experience while keeping things simple, and PLITCH features auto-updates, direct game starts, custom keys, an android app and so much more!
Best of all, you can try PLITCH for free right now, and over 10% of our featured games are fully accessible in the free version. Do you love Football Manager 2021 but wish that you could increase your transfer budget on the go and sign literally all of the best players in the world? Are you playing Phasmaphobia and want a more hardcore experience? PLITCH can do it all. And we're confident that you will fall in love with the newfound possibilities.
We all love games and we've all had trouble finishing games for a variety of reasons. At PLITCH, we're here to help you have fun playing the way that you want and to ensure that your $70 investment actually ends up being worth it. For $5.99/month can you afford not to give PLITCH a try? Now's your chance to finish up all those games in your library!