You've been stuck in the same spot for two hours. Two hours of pain, suffering, tedium, and frustration, boiling over like the lava surrounding the Centipede Demon. You "simply" have to land that perfectly timed double jump to the platform, then throw a fireball on impact to take out the demon, while backflipping over its minions. All that stands between you and enjoying the moment is...everything about this. Each time you restart there's a glimmer of hope, that maybe this time will be different, that maybe you'll last a little bit longer, and finally you'll defeat the dreaded boss. Instead, you're greeted with the same red letters, spouting the words you've come to dread: "You Died." And that's the end of that — or at least it was before PLITCH.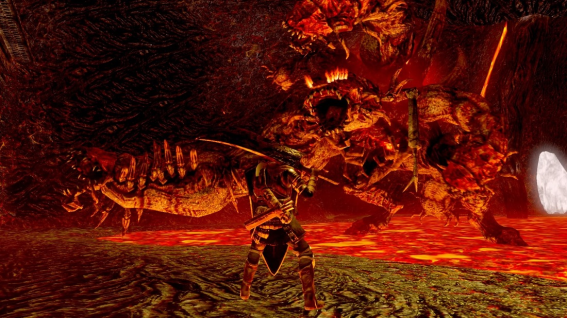 Screenshot Dark Souls, Publisher: From Software, Bandai Namco
At MegaDev, we believe you should be able to play single-player games any way you want to. That's why with PLITCH, you can make sure that playing games will always be a fun experience, whether you're looking for a tougher challenge or an easier run through.
But what exactly is PLITCH? PLITCH is a software assistant that allows players to customize single-player PC games. It features a massive library of titles with over 34,800 in-game customizations (as of March 2021), and that number is continuing to grow every day as new games are released. Remember the Game Genie? It's like that, but modern, and on a massive scale. Take Cyberpunk 2077 for example. Even though the game has only just launched, there are already 28 customizations to juice up your playthrough, including ones to provide infinite stamina, more grenades, and add money to your bank, so your next run through Night City is fast and fantastic, instead of furiously frustrating and controller-thrower inducing.
Now I know what you're thinking, "But isn't altering games cheating, and isn't cheating a bad thing?" Yes, cheating in multiplayer games is a bad thing, and your friends might hate you if you decided to do so, but altering your own single-player experience to make it more fun is just good sense. All of PLITCH's customization options are made exclusively for single-player games so that you can enjoy an invincible run of Doom Eternal, or try to defeat the last boss in Dark Souls with zero souls. Or maybe just make it past that incredibly annoying double-jump that's been frustrating you for hours. Rather than get frustrated and give up on that $60 game you just bought, you can fire up PLITCH and enjoy it. The choice is yours.
Since PLITCH is an all-in-one subscription service that helps enhance your game for just $5.99/month you'll never have to worry about whether or not the customizations for your game are up to date. Once you subscribe to any of the subscription tiers, you unlock every single customization available on the PLITCH platform and every new one that arrives while your subscription is still active.

Whether you're a hardcore prodigy or a casual gamer, PLITCH is made for you. Love Cuphead's art style and jazzy rhythmic score, but find the fast-paced intense challenge of the game frustrating, forcing you to quit in defeat with little progress to show for it? With PLITCH you can customize the experience by gaining more coins for a needed upgrade that will help take down a boss or even cruise your way through the level with invincibility, making rage-quitting a thing of the past.
PLITCH also doubles as a training software, that ramps up the game difficulty for those looking for more of a challenge. In Ubisoft's gorgeous mythological adventure, Fenyx Rising, for example, you can toggle on a hardcore mode that lowers your base health and makes your odyssey to defeat the Serpentine Giant Typhon a challenge worthy of a true hero. In GTA V you can fight the law and actually come out on top by changing your Police Rating to five stars, zero stars, or keeping it locked at where it currently is.
Unlike the majority of game-enhancing software, PLITCH is highly secure and free of malware. Each customization option is created and tested by our team so that the only thing you need to worry about is playing your favorite single-player games.
Having a custom gameplay experience that fits your playstyle and preferences may sound like a dream, but with PLITCH it's just reality. To PLITCH or not to PLITCH? Now that's a silly question.