Loop Hero


Trainer & Cheats

by

Loop Hero


Trainer & Cheats

by

Top 4 cheats in PLITCH
Free Cheats
Refill health
Low health
Premium Cheats
Fast Attack
Godmode
See all cheats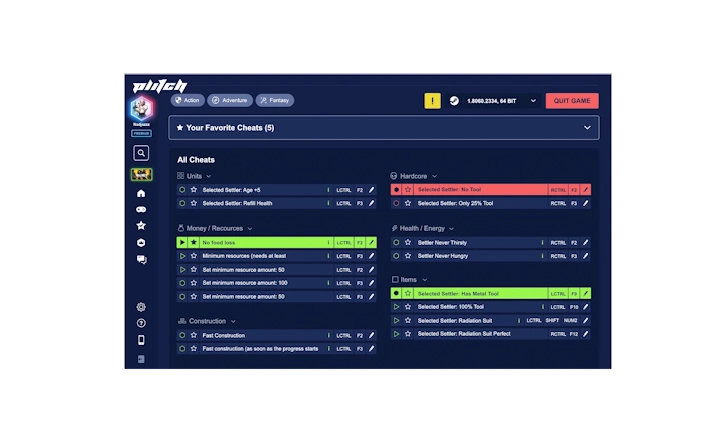 7 Cheat Codes
Loop Hero
Download and install PLITCH.
Create a free or premium account.
Open the client, search for your game, and start PLITCHing.*
* You need to purchase Loop Hero in one of the supported stores to use it with PLITCH.
Free Cheats for Loop Hero
These cheats are for free and available for everyone.
Premium Cheats for Loop Hero
These cheats are only available for premium users.
FAQ and More
Loop Hero - An Endless Time Loop!
In the indie-fantasy-RPG-strategy-video-game Loop Hero, the world was thrown into chaos by the cruel Lich. Since then, it has been stuck in an endless time loop. To break out of the loop, you'll have to embark on expeditions to an unknown world whose paths are randomly generated with every run. As you progress through the game, you'll unlock new character classes as well as mystical cards that allow you to place buildings, loot, and enemies on each of your runs to reshape each adventure. Our exclusive PLITCH Training-Codes and Cheats, on the other hand, let you customize the entire game!
Supported Stores*:
Developer: Release Year: Latest Trainer Update:
Four Quarters
2021
6/7/2022
Full Name: Publisher:
Loop Hero
Devolver Digital
Developer: Release Year: Latest Trainer Update: Full Name: Publisher: Supported Stores*:
Four Quarters
2021
6/7/2022
Loop Hero
Devolver Digital
You may also like these games