MegaDev:

The Creators of PLITCH!
MegaDev GmbH is the software development company behind the PLITCH PC trainer.
Founded in 2015 in Munich, Germany, MegaDev entered the world of PC game mods with the all-in-one PC cheat software MegaTrainer, which was later upgraded to PLITCH. Since then, the company and, its products have grown remarkably, and MegaDev is now the biggest PC mod software company in the world!
The MegaDev Team
The MegaDev team consists of experienced entrepreneurs, developers, and gaming enthusiasts. The company's headquarters are located in Munich, Germany, but the staff includes employees from Europe, America, and Asia. United by a shared passion for gaming, each team member brings unique experience and insight which leads to innovative solutions and a fun, collaborative working environment.
Are you interested in working for MegaDev? Take a look at our current job offers
The PLITCH Team 2022
This is where PC game mods are made!
The History of PLITCH PC Game Mod Software
2001
Release MTXL
The first "All-in-one Game Trainer", the "MegaTrainer XL" was invented by our co-founder Christian Jänicke. Starting with 5 game trainers, it grew to 91 by the time it was retired.
2012
Release MTX
"MegaTrainer Experience," – the second generation, was also invented and built by Christian, and was published as a successor to the MTXL in 2012. By the time it was retired, the game trainer library had grown to 694 games.
2015
Founding Date MegaDev
MegaDev is officially founded and incorporated.
2016
Release MTU V1
MegaTrainer Ultimate (V1) was a major technical leap, featuring the ability to execute cheat codes via mouse click AND hotkeys.
2018
Release MTU V2
MegaTrainer Ultimate (V2)" replaced V1. It featured a modern design, new user features and a new adjacent website and forum structure. Over 1,000 additional games were added in its 2 year life span, boasting a total of 2,212 game trainers before PLITCH took everything to a new level.
09.03.2020
Release PLITCH
PLITCH officially launches, featuring 33,000+ game mods and cheat codes and support for 2,500+ games.
09.03.2020
Release PLITCH Link App
The PLITCH Link App was a major breakthrough that enabled gamers to activate and manage their PLITCH mods from their phone.
The MegaDev Team at Work!
The MegaDev team works tirelessly behind the scenes to make your gaming experience better. The statistics below showcase the team's dedication to supporting gamers across the globe.
30+
In-Depth Videos & Guides per Month
250+
Game Patches (on Average) per Week
20+
New Game Trainers (on Average) per Week
Join the PLITCH Community
At MegaDev, we're all about enhancing your PC gaming experience. Keep an eye on our socials for contests, livestreams, behind-the-scenes insights, and of course, new PLITCH codes!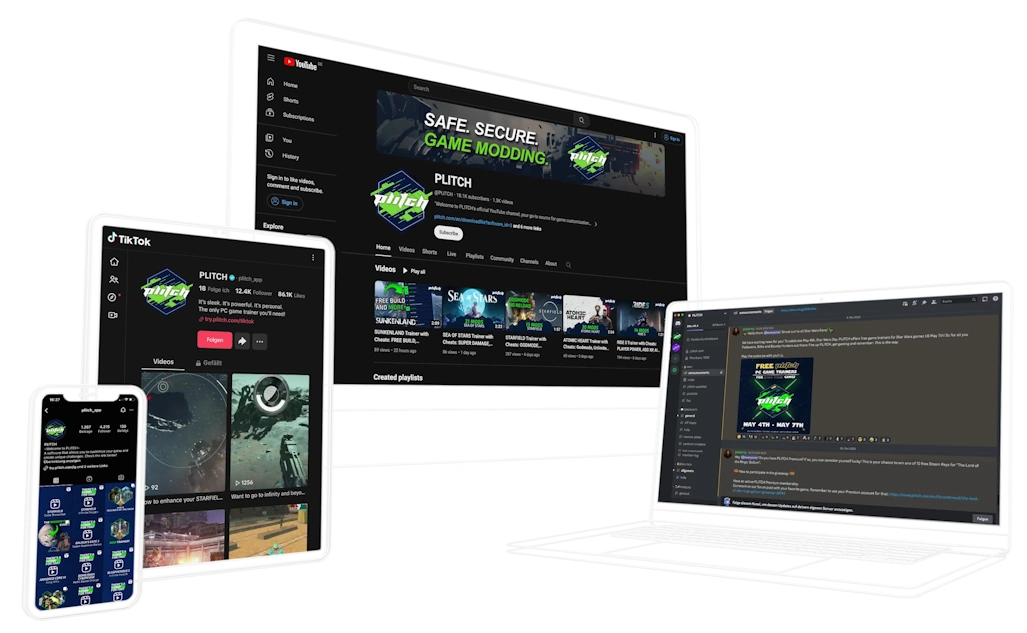 Need Help?