7 Days to Die


Trainer & Cheats

by

7 Days to Die


Trainer & Cheats

by

Top 4 cheats in PLITCH
Free Cheats
+1 Hour
-1 hour
Premium Cheats
Fly mode
Godmode
See all cheats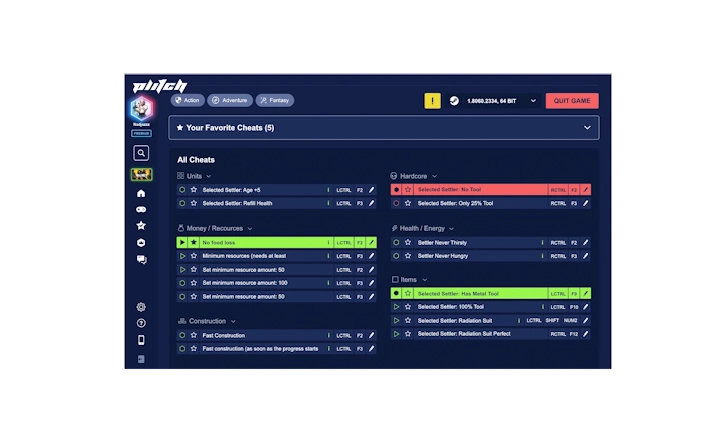 28 Cheat Codes
7 Days to Die
Download and install PLITCH.
Create a free or premium account.
Open the client, search for your game, and start PLITCHing.*
* You need to purchase 7 Days to Die in one of the supported stores to use it with PLITCH.
Free Cheats for 7 Days to Die
These cheats are for free and available for everyone.
Premium Cheats for 7 Days to Die
These cheats are only available for premium users.
No Collision (Fly Mode required)
FAQ and More
7 Days to Die - Pure Zombie Action!
The 2013 zombie-video-game 7 Days to Die is a unique mix of survival-horror, role-playing, first-person-shooter and tower-defense. Search the game world for loot to craft and upgrade your weapons and equipment. Build a base and supply it with power, defenses and traps. In total there are over 50 different types of zombies in the game. To keep them all off your back, just activate our exclusive PLITCH Cheats and Training-Codes!
Supported Stores*:
Developer: Release Year: Latest Trainer Update:
The Fun Pimps
2013
11/21/2023
Full Name: Publisher:
7 Days to Die
The Fun Pimps Entertainment LLC
Developer: Release Year: Latest Trainer Update: Full Name: Publisher: Supported Stores*:
The Fun Pimps
2013
11/21/2023
7 Days to Die
The Fun Pimps Entertainment LLC
You may also like these games