Baldur's Gate 3


Trainer & Cheats

by

Baldur's Gate 3


Trainer & Cheats

by

Top 4 cheats in PLITCH
Free Cheats
Reset Item/Gold
Set Strength
Premium Cheats
Godmode
Unlimited Movement/Attacks
See all cheats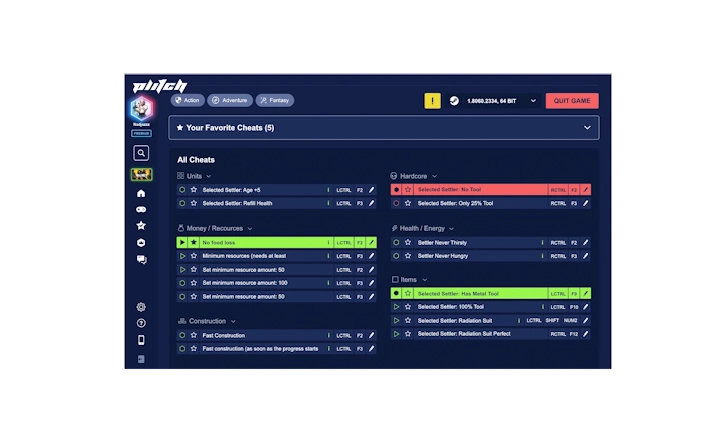 34 Cheat Codes
Baldur's Gate 3
Download and install PLITCH.
Create a free or premium account.
Open the client, search for your game, and start PLITCHing.*
* You need to purchase Baldur's Gate 3 in one of the supported stores to use it with PLITCH.
Free Cheats for Baldur's Gate 3
These cheats are for free and available for everyone.
Premium Cheats for Baldur's Gate 3
These cheats are only available for premium users.
Unlimited Movement/Attacks
FAQ and More
Baldur's Gate 3 – The classic RPG returns!
Baldur's Gate 3: A tale of fellowship, betrayal, and power. Create your own destiny in this story-driven RPG set in the Dungeons & Dragons universe. Harness the newfound abilities of a Mind Flayer parasite - resist and conquer, or embrace corruption and become the ultimate evil. Created by the developers of Divinity: Original Sin 2 developers, an epic adventure awaits. If you want even more customization options than the game already offers, try the Baldur's Gate 3 cheats from PLITCH. Choose the cheat codes you like from our Baldur's Gate 3 trainer and play the game by your own rules.
Supported Stores*:
Developer: Release Year: Latest Trainer Update:
Larian Studios
2020
12/8/2023
Full Name: Publisher:
Baldur's Gate 3
Larian Studios
Developer: Release Year: Latest Trainer Update: Full Name: Publisher: Supported Stores*:
Larian Studios
2020
12/8/2023
Baldur's Gate 3
Larian Studios
Create your own destiny with PLITCH's Baldur's Gate 3 cheats!
Customize the game with our Baldur's Gate 3 game trainer
What features does our trainer have to offer?
PLITCH offers an exceptional game trainer experience for Baldur's Gate 3 on PC, enhancing the single-player adventure with a selection of cheat codes. Experience the thrill of unbridled creativity as you use these cheats to customize and enhance your gameplay.

For those who like a challenge, the "Hardcore" cheat will push your skills to the limit. Or, if you seek opulence, the "Set Item/Gold" cheat paves the way to boundless riches, giving you the freedom to forge your own destiny.

Wield the power of a deity with "Godmode" and bask in invincibility, or revel in the joy of "Unlimited Weight," which allows you to collect treasures beyond measure. Dominate the battlefield with "Unlimited Movement/Attacks," while "Easy Kills" offers quick victory over AI enemies.

PLITCH's Baldur's Gate 3 cheats allow you to customize your experience, proving that cheating can indeed enhance the enjoyment of a single-player journey. Unleash your imagination, redefine the rules, and enjoy the game in ways you've only dreamed of.

Happy Gaming!
What makes PLITCH's Baldur's Gate 3 cheats different from other game trainers?
Your quest, your rules: Imagine you're at the heart of a compelling story, but a challenge stands in your way. With PLITCH's Baldur's Gate 3 cheats, you hold the power to customize your gaming experience. But here's the twist – PLITCH isn't just about making things easier. For those who crave a test of skill, delve into the Hardcore cheats, like "Reset Item/Gold," and embrace a truly challenging path.


Safety first, always: Worried about your game integrity? PLITCH operates within the realms of legality and safety. While multiplayer cheats can disrupt the experience for others, PLITCH's single-player cheats only enhance your personal journey. These cheats are designed to access your PC's RAM, never interfere with game files, and never violate copyright laws. Plus, you're in no danger of getting banned, as these cheats are for single-player modes only.


User-friendly mastery: Navigating PLITCH's offerings is as seamless as delivering a perfectly timed critical strike. Download the easy-to-use client, available in multiple languages, and connect with a community of fellow adventurers. Set custom hotkeys or use the overlay application to activate cheats in-game without interrupting your immersive experience. PLITCH works across platforms like Steam and the Epic Games Store, ensuring that your favorite games are ready for customization.


Stay ahead with fast updates: While free cheat providers may struggle to keep up with updates, PLITCH's premium cheats come with consistent support. Patches and updates are part of our DNA. Expect timely releases for your most anticipated games, ensuring you can keep up with the latest content while harnessing the power of cheats.


A community of allies: Embarking on a solo adventure doesn't mean you're alone. PLITCH offers more than just cheats – it's a thriving community of gamers who share your passion. Join the PLITCH Discord server and forum to connect with like-minded individuals, seek advice, and exchange ideas. And if you ever encounter a hurdle, rest assured that PLITCH's exceptional customer service is here to swiftly address your concerns.

Whether you're venturing through the enchanting realms of Baldur's Gate 3 or conquering other legendary sagas, PLITCH gives you the tools to shape your gaming destiny. Download PLITCH today and enter a realm where epic adventures unfold at your command.
You may also like these games