Fallout 4


Trainer & Cheats

by

Fallout 4


Trainer & Cheats

by

Top 4 cheats in PLITCH
Free Cheats
+1 Perk point
Premium Cheats
+5,000 Bottle caps
No Reload
No recharge
See all cheats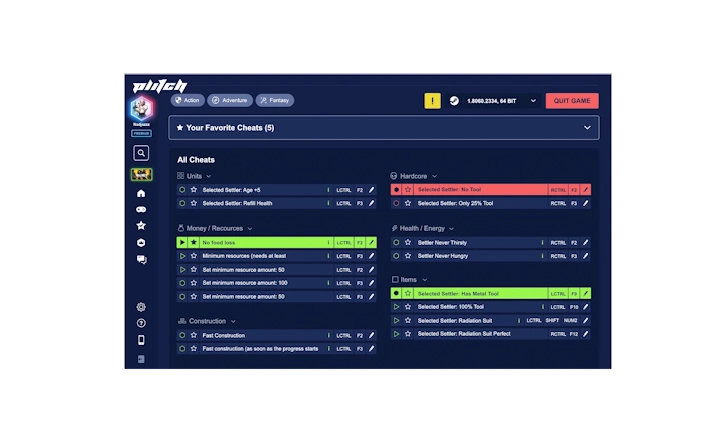 24 Cheat Codes
Fallout 4
Download and install PLITCH.
Create a free or premium account.
Open the client, search for your game, and start PLITCHing.*
* You need to purchase Fallout 4 in one of the supported stores to use it with PLITCH.
Free Cheats for Fallout 4
These cheats are for free and available for everyone.
Prepare for player cheats
Premium Cheats for Fallout 4
These cheats are only available for premium users.
Terminal passwords are always right
FAQ and More
Fallout 4 – More action than ever before
The action hit Fallout 4 is an open-world game developed by Bethesda Game Studios. To survive in a world destroyed by nuclear war, PLITCH is providing you with a Fallout 4 trainer that contains 24 cheat codes. The fight for survival will be a walk in the park with our Fallout 4 PC cheats.
Supported Stores*:
Developer: Release Year: Latest Trainer Update:
Bethesda Game Studios
2015
11/24/2023
Full Name: Publisher:
Fallout 4
Bethesda Softworks
You may also like these games