ICARUS


Trainer & Cheats

by

ICARUS


Trainer & Cheats

by

Top 4 cheats in PLITCH
Free Cheats
Set Movement-speed (default = 1)
Set Gravity (default = 1)
Premium Cheats
Unlimited Health
Unlimited stamina
See all cheats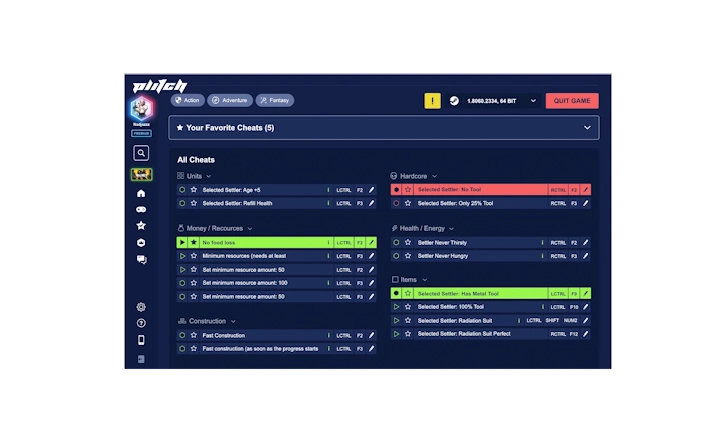 36 Cheat Codes
ICARUS
Download and install PLITCH.
Create a free or premium account.
Open the client, search for your game, and start PLITCHing.*
* You need to purchase ICARUS in one of the supported stores to use it with PLITCH.
Free Cheats for ICARUS
These cheats are for free and available for everyone.
Set Movement-speed (default = 1)
Set Gravity (default = 1)
Set Jump-Height (default = 525)
Premium Cheats for ICARUS
These cheats are only available for premium users.
Set Jump Max Count (default = 1)
Set Internal Temperature (Perfekt = 2200; 0-6000)
FAQ and More
ICARUS – Survive on a hostile alien planet
Welcome to ICARUS, the open-world survival game that promises a thrilling exploration of terrain altered by terraforming gone wrong! Enter a savage wilderness and brave harsh conditions as you fight for survival. Explore the world in search of exotic materials to mine and develop advanced technologies to make it back into orbit before your time runs out. With PLITCH's ICARUS PC cheats, your survival is guaranteed. The 35 cheat codes from our ICARUS trainer will help you in any situation, no matter how difficult.
Supported Stores*:
Developer: Release Year: Latest Trainer Update:
Developer: Release Year: Latest Trainer Update: Full Name: Publisher: Supported Stores*:
RocketWerkz
2021
12/8/2023
ICARUS
RocketWerkz
Do you have what it takes to survive?
Brave the harsh conditions with the ICARUS cheats from PLITCH
How can PLITCH's ICARUS trainer enhance your gaming experience?
Are you playing ICARUS and finding it challenging to progress through the game? Then you might want to try the ICARUS cheats available for your PC through the game trainer program PLITCH.

With ICARUS cheats you can gain an advantage in your single-player gameplay, from unlimited water and stamina to free crafting and much more. These cheat codes are designed to enhance your gaming experience without affecting other players.

PLITCH's game trainer makes it easy to activate ICARUS cheats and customize the game to suit your playstyle. You can even make the game harder with our hardcore codes! Try combining our easy and hardcore codes to create your own personal challenge.

So why spend countless hours struggling with difficult parts when you can breeze through them with our ICARUS cheats? Download PLITCH today and take your gaming experience to the next level!

Happy Gaming!
You may also like these games