Dandy Ace


Trainer & Cheats

by

Dandy Ace


Trainer & Cheats

by

Top 5 cheats in PLITCH
Free Cheats
Refill health
Low health
Add Gold
Add Shards
Reset Gold
See all cheats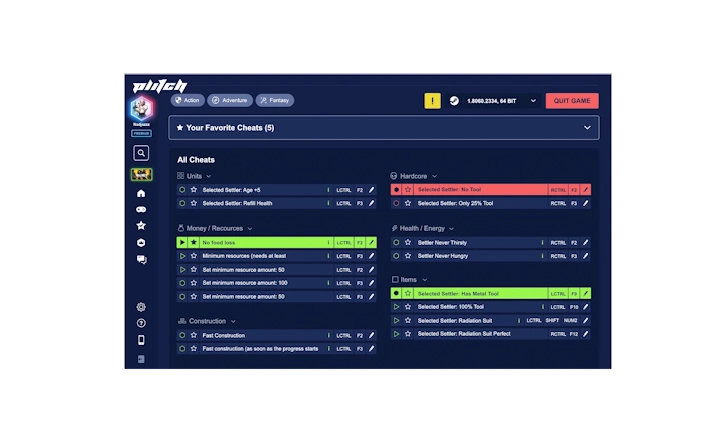 10 Cheat Codes
Dandy Ace
Download and install PLITCH.
Create a free or premium account.
Open the client, search for your game, and start PLITCHing.*
* You need to purchase Dandy Ace in one of the supported stores to use it with PLITCH.
Free Cheats for Dandy Ace
These cheats are for free and available for everyone.
FAQ and More
Dandy Ace - Trapped in a Cursed Mirror
In the roguelike-action-video-game Dandy Ace, you play the card trickster Dandy Ace, who is trapped in a mirror by the Green-Eyed Illusionist Lele. You navigate him through his extravagant palace from an isometric view while assembling a deck of spell cards that will give you magical abilities and let you create your own play style. The evil wizard Lele, however, will try everything to prevent you from escaping and will put tons of unique enemies and bosses in your way. But our exclusive PLITCH Training-Codes and Cheats will help you break out of this mirror world!
Supported Stores*:
Developer: Release Year: Latest Trainer Update:
Developer: Release Year: Latest Trainer Update: Full Name: Publisher: Supported Stores*:
Mad Mimic
2021
9/30/2021
Dandy Ace
NEOWIZ
You may also like these games