Epic Chef


Trainer & Cheats

by

Epic Chef


Trainer & Cheats

by

Top 4 cheats in PLITCH
Free Cheats
Add Money
Decrease Money
Premium Cheats
Instant Stat Level Up
Set Hour (1 - 24)
See all cheats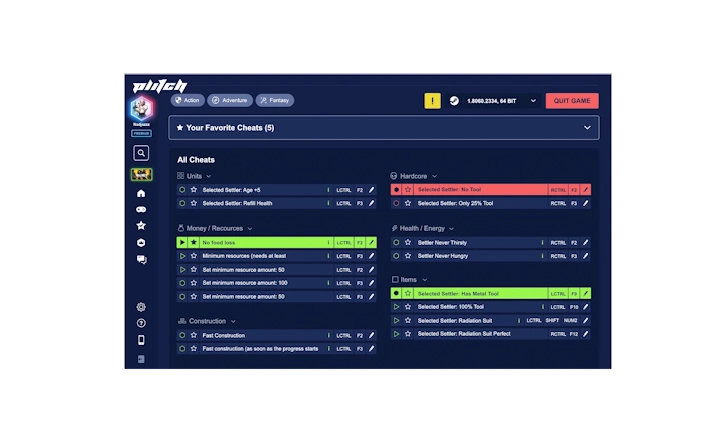 6 Cheat Codes
Epic Chef
Download and install PLITCH.
Create a free or premium account.
Open the client, search for your game, and start PLITCHing.*
* You need to purchase Epic Chef in one of the supported stores to use it with PLITCH.
Free Cheats for Epic Chef
These cheats are for free and available for everyone.
Premium Cheats for Epic Chef
These cheats are only available for premium users.
FAQ and More
Epic Chef – Behold! A Delicious New Adventure Awaits!
Welcome to the world of Epic Chef! This story-driven adventure game will take you on a hilarious culinary quest as you take on the role of Zest. Grow your farm, gather delicious ingredients and get cooking! With its life-sim farming and crafting elements blended together into one delicious dish, Epic Chef offers an interactive cooking experience that is sure to entertain. So come on in and join the fun – the kitchen's open! The moments of frustration and hopelessness in games are often what keep us stuck. The PLITCH Epic Chef Trainer software offers cheat codes to help modify the game to suit your skillset. Build yourself up into a gaming powerhouse that can do anything in single-player mode. In addition to this, use our quality Epic Chef cheats from the list to enjoy playing. Our cheat ingredients will turn every dish into a gourmet meal!
Supported Stores*:
Developer: Release Year: Latest Trainer Update:
You may also like these games