Mars Horizon


Trainer & Cheats

by

Mars Horizon


Trainer & Cheats

by

Top 4 cheats in PLITCH
Free Cheats
Add Funds
Reset Funds to 0
Premium Cheats
Easy Building Construction
Easy/Fast Vehicle Construction
See all cheats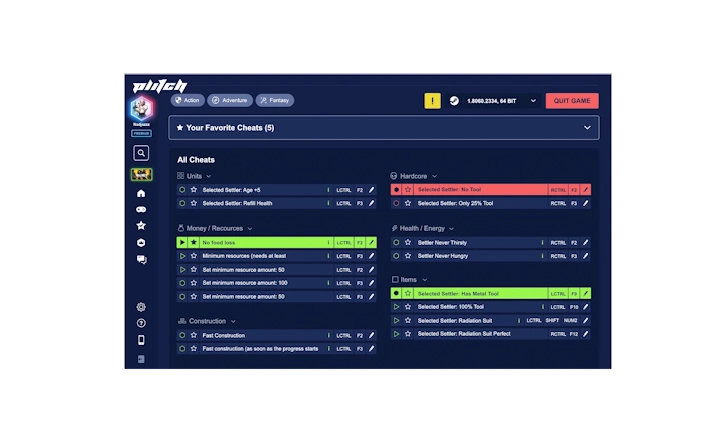 21 Cheat Codes
Mars Horizon
Download and install PLITCH.
Create a free or premium account.
Open the client, search for your game, and start PLITCHing.*
* You need to purchase Mars Horizon in one of the supported stores to use it with PLITCH.
Free Cheats for Mars Horizon
These cheats are for free and available for everyone.
Premium Cheats for Mars Horizon
These cheats are only available for premium users.
Easy Building Construction
Easy/Fast Vehicle Construction
Easy/Fast Payload Construction
Set Science Income Multiplier
Set Funds Income Multiplier
Set Monthly Income Multiplier
Set Research Cost Multiplier
Set Task Requirement Multiplier
FAQ and More
Mars Horizon - The Journey to the Red Planet!
Mars Horizon is a strategy-simulation-video-game developed with the support of the European Space Agency. You manage your own space agency with the goal to reach Mars. At the beginning of the game, however, you still far away from reaching that goal and you have to find a way to get there through research and scientific progress. Our exclusive PLITCH Cheats and Training-Codes will accompany you on your journey into space!
Supported Stores*:
Developer: Release Year: Latest Trainer Update:
Auroch Digital
2020
6/24/2022
Full Name: Publisher:
Mars Horizon
The Irregular Corporation
Developer: Release Year: Latest Trainer Update: Full Name: Publisher: Supported Stores*:
Auroch Digital
2020
6/24/2022
Mars Horizon
The Irregular Corporation
You may also like these games