MX vs ATV Legends


Trainer & Cheats

by

MX vs ATV Legends


Trainer & Cheats

by

Top 4 cheats in PLITCH
Free Cheats
Player power -5%
Player power +5%
Premium Cheats
AI power -5%
AI power +5%
See all cheats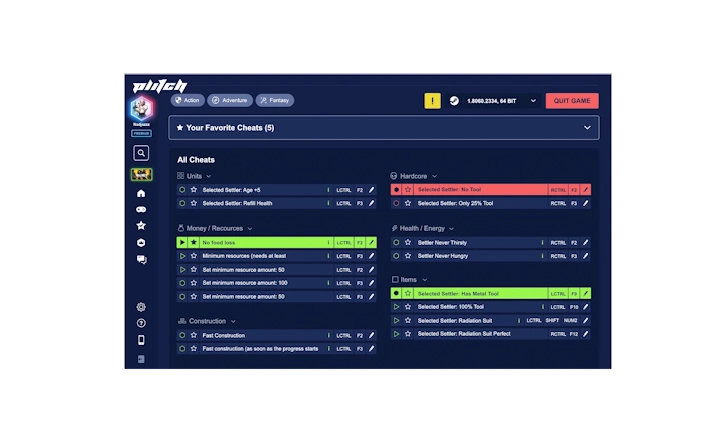 21 Cheat Codes
MX vs ATV Legends
Download and install PLITCH.
Create a free or premium account.
Open the client, search for your game, and start PLITCHing.*
* You need to purchase MX vs ATV Legends in one of the supported stores to use it with PLITCH.
Free Cheats for MX vs ATV Legends
These cheats are for free and available for everyone.
Premium Cheats for MX vs ATV Legends
These cheats are only available for premium users.
Race will end after current lap
FAQ and More
MX vs ATV Legends - It's time to tear up the track
Are you ready to race your way to victory? Then jump on your bike, and get ready for some serious off-road action in MX vs ATV Legends! This exciting game features massive open environments, plus a career mode that lets you experience all the risks and rewards of becoming a world-famous professional rider. So, whether you're racing on a bike, ATV or UTV, you'll definitely have a blast tearing up the track! If you want to customize the game, PLITCH's cheat codes are exactly what you need. With our MX vs ATV Legends trainer and MX vs ATV Legends cheats you'll have a unique gaming experience.
Supported Stores*:
Developer: Release Year: Latest Trainer Update:
Rainbow Studios
2022
11/27/2023
Full Name: Publisher:
MX vs ATV Legends
THQ Nordic
Developer: Release Year: Latest Trainer Update: Full Name: Publisher: Supported Stores*:
Rainbow Studios
2022
11/27/2023
MX vs ATV Legends
THQ Nordic
You may also like these games