Tavern of Gods


Trainer & Cheats

by

Tavern of Gods


Trainer & Cheats

by

Top 4 cheats in PLITCH
Free Cheats
Refill Hearts
Set hearts to 1
Premium Cheats
Add Lucky Points
Add Max Leadership Points
See all cheats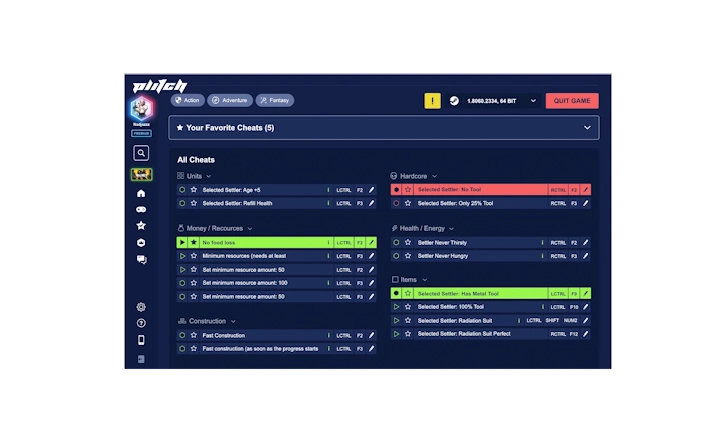 7 Cheat Codes
Tavern of Gods
Download and install PLITCH.
Create a free or premium account.
Open the client, search for your game, and start PLITCHing.*
* You need to purchase Tavern of Gods in one of the supported stores to use it with PLITCH.
Free Cheats for Tavern of Gods
These cheats are for free and available for everyone.
Premium Cheats for Tavern of Gods
These cheats are only available for premium users.
Add Max Leadership Points
FAQ and More
Tavern of Gods - The Little "Board Game of the Gods"!
The video-game Tavern of Gods is a fantasy-roguelike-RPG with an auto-battle feature. You play a god who likes to hang out in a tavern and play a "little board game" in his spare time. This board game consists of sending heroes on expeditions to collect loot. Each expedition is different from the one before it thanks to random features and hero attributes. Our exclusive PLITCH Cheats and Training-Codes add even more variety!
Supported Stores*:
Developer: Release Year: Latest Trainer Update:
Element Studio
2020
10/4/2021
Full Name: Publisher:
Tavern of Gods
Element Studio
You may also like these games