Dragon Age - Inquisition


Trainer & Cheats

by

Dragon Age - Inquisition


Trainer & Cheats

by

Top 4 cheats in PLITCH
Free Cheats
Increase gold by 10.000
Premium Cheats
Increase gold by 50.000
Infinite focus (Party)
Infinite stamina + mana (Party)
See all cheats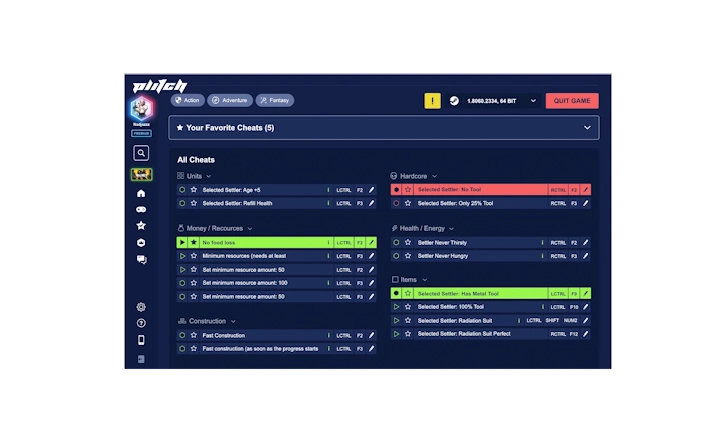 17 Cheat Codes
Dragon Age - Inquisition
Download and install PLITCH.
Create a free or premium account.
Open the client, search for your game, and start PLITCHing.*
* You need to purchase Dragon Age - Inquisition in one of the supported stores to use it with PLITCH.
Free Cheats for Dragon Age - Inquisition
These cheats are for free and available for everyone.
Premium Cheats for Dragon Age - Inquisition
These cheats are only available for premium users.
Infinite stamina + mana (Party)
Player-experiences +1.000
Inquisition-experiences +100
Free crafting / Infinite Potions
FAQ and More
Dragon Age - Inquisition: An unique fantasy epic
Supported Stores*:
Developer: Release Year: Latest Trainer Update:
Full Name: Publisher:
Dragon Age - Inquisition
Electronic Arts
Developer: Release Year: Latest Trainer Update: Full Name: Publisher: Supported Stores*:
BioWare
2014
11/28/2022
Dragon Age - Inquisition
Electronic Arts
Save the world from destruction with PLITCH
Give your enemies the shivers with our Dragon Age cheats
What does the Story and Game World of Dragon Age: Inquisition look like?
Dragon Age: Inquisition is an open-world RPG world full of magic, fantastical creatures, demons and tons of possibilities. You'll play as the Inquisitor and lead a group of heroes through the lands of Thedas.

The Inquisition is an ancient order whose members once pledged themselves to protect Theda. In the Age of Dragons, however, the world descends into chaos as the various factions of Theda begin war among themselves and ravage the continent.

At the same time, dimensional rifts suddenly open all over the world, through which demons invade the world already marked by war and destruction. You make it your mission to rebuild the Inquisition and bring Thedas back into balance.

The headquarters of the Inquisition are located in the Skyhold, a fortress that sits on a former ritual site of the Elves and is protected by their magic. From there you'll go out in search of allies and resources to strengthen your cause and the war council.
Experience Dragon Age Inquisition in a different way with the PLITCH Trainer!
Dragon Age: Inquisition is already quite an old game, which was even released on PS3 and Xbox 360, but is still more than worth playing today. You've already played the adventure countless times and want to experience it in a different way? Or you have just purchased the game and want to ease your way in? In both cases, PLITCH will be your best friend!

Our Dragon Age Inquisition cheats will open up tons of new possibilities that will make your gaming experience simply extraordinary. The game is packed with side quests and other content, which makes it quite a time-intensive game.

Focus on the fun parts of the game with our Dragon Age: Inquisition XP cheats! They make hours of XP farming obsolete by increasing your character's and the Inquisition's experience points and letting you quickly level up and unlock skill points.

With our Dragon Age: Inquisition trainer, you can also increase your money with the click of a button and get rich in no time – why this is useful is self-explanatory. Our instant skill cooldown cheat lets you use your skills non-stop and bombard your enemies with special attacks.

Our item cheats unlock infinite shop items and potions and let you craft items for free – just get everything your heart desires. The only problem now is the limited carrying weight. But thanks to our trainer, you don't have to worry about that anymore! Simply increase your maximum carrying weight every time you reach the limit. This way you'll never have to go back to your chest to store items again.

You can also make yourself immortal with our Dragon Age: Inquisition cheats! Just activate Godmode for your entire party and make your enemies tremble with fear.

Note that PLITCH does not support Dragon Age: Inquisition multiplayer cheats. Since the creation of PLITCH, it has been important to us that games can not be modified at the expense of others. A firewall in our trainer software ensures that this complies with all supported games on PLITCH.
You may also like these games
Forum
Dragon Age - Inquisition