FIFA Manager 06


Trainer & Cheats

by

FIFA Manager 06


Trainer & Cheats

by

Top 5 cheats in PLITCH
Free Cheats
Freeze club-money to 500.000.000
Freeze manager-money to 500.000.000
New board-contracts always 150.000
Managercontract bonus
Player-healing
See all cheats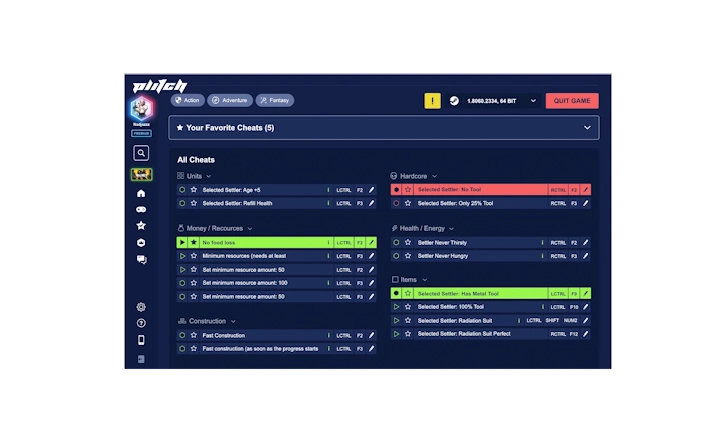 29 Cheat Codes
FIFA Manager 06
Download and install PLITCH.
Create a free or premium account.
Open the client, search for your game, and start PLITCHing.*
* You need to purchase FIFA Manager 06 in one of the supported stores to use it with PLITCH.
Free Cheats for FIFA Manager 06
These cheats are for free and available for everyone.
Morals-fitness-freshness-condition cheat
Freeze club-money to 500.000.000
Freeze manager-money to 500.000.000
New board-contracts always 150.000
Player-attribute cheat to 40
Player-attribute cheat to 60
Player-attribute cheat to 77
Player-attribute cheat to 88
Player-attribute cheat to 99
Player-talent maximum and bipedal
Player-nationality Brasilia
Player-nationality Germany
Player-nationality England
Player-nationality France
Player-nationality Faroe Islands
Player-nationality Luxembourg
Player-nationality Cyprus
Manager contracttime increase
Manager contracttime decrease
Club-prestige cheat to 10
Club-prestige cheat to 20
FAQ and More
FIFA Manager 06: Let's play Football
Supported Stores*:
Developer: Release Year: Latest Trainer Update:
Full Name: Publisher:
FIFA Manager 06
EA SportsElectronic Arts
Developer: Release Year: Latest Trainer Update: Full Name: Publisher: Supported Stores*:
EA Canada
2005
3/31/2020
FIFA Manager 06
EA SportsElectronic Arts
You may also like these games