Little Orpheus


Trainer & Cheats

by

Little Orpheus


Trainer & Cheats

by

Top 4 cheats in PLITCH
Free Cheats
Increase movement speed
Decrease movement speed
Premium Cheats
Stealth (Trex)
Stealth (Menk)
See all cheats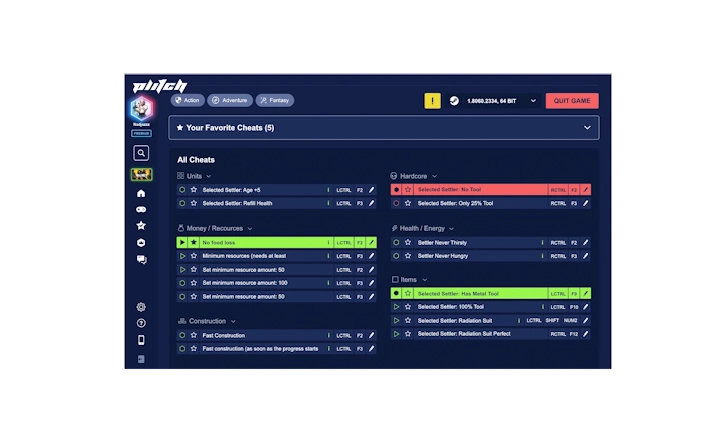 13 Cheat Codes
Little Orpheus
Download and install PLITCH.
Create a free or premium account.
Open the client, search for your game, and start PLITCHing.*
* You need to purchase Little Orpheus in one of the supported stores to use it with PLITCH.
Free Cheats for Little Orpheus
These cheats are for free and available for everyone.
Increase underwater movement speed
Regular underwater movement speed
Decrease underwater movement speed
Premium Cheats for Little Orpheus
These cheats are only available for premium users.
Evil Ivan can't appear (Bonus Episode)
No Damage by electric corals (Episode 5)
No Damage from crushing (Episode 6)
Godmode: Flying Fish (Bonus Episode)
FAQ and More
Little Orpheus – Learn the true meaning of being a hero
There's something special about Little Orpheus. It's the story of a hero, told through the captivating art style of The Chinese Room. It's a game that will make you laugh, cry, and think about what it means to be a hero. The PLITCH cheat codes in the Little Orpheus trainer are there to support you on your quest. Find out which one of the Little Orpheus PC cheats is the most useful to you. Have fun on your adventure!
Supported Stores*:
Developer: Release Year: Latest Trainer Update:
The Chinese Room
2022
1/10/2023
Full Name: Publisher:
Little Orpheus
Secret Mode
Developer: Release Year: Latest Trainer Update: Full Name: Publisher: Supported Stores*:
The Chinese Room
2022
1/10/2023
Little Orpheus
Secret Mode
You may also like these games