Secrets of Grindea


Trainer & Cheats

by

Secrets of Grindea


Trainer & Cheats

by

Top 4 cheats in PLITCH
Free Cheats
Refill health
Low health
Premium Cheats
Godmode
Unlimited Energy
See all cheats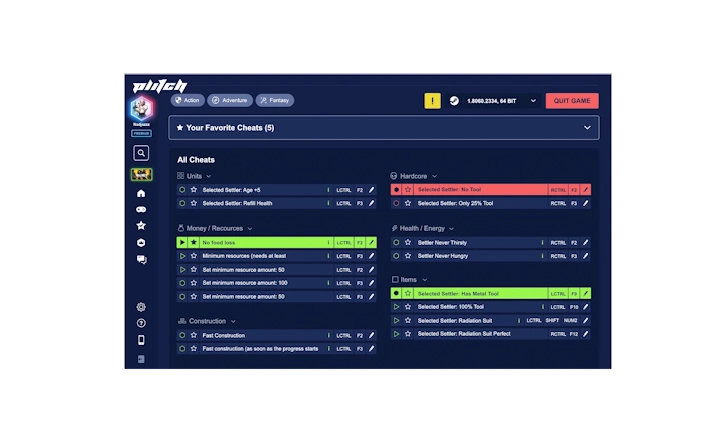 25 Cheat Codes
Secrets of Grindea
Download and install PLITCH.
Create a free or premium account.
Open the client, search for your game, and start PLITCHing.*
* You need to purchase Secrets of Grindea in one of the supported stores to use it with PLITCH.
Free Cheats for Secrets of Grindea
These cheats are for free and available for everyone.
Premium Cheats for Secrets of Grindea
These cheats are only available for premium users.
Set Player Speed (default = 2)
Set Skill Points (Silver)
Set Selected Item Quantity
FAQ and More
Secrets of Grindea – A tribute to the classics
The action-adventure-video-game Secrets of Grindea from indie developer Pixel Ferrets is set to be an homage to old-school RPGs from the SNES era. Create your own character and develop them by unlocking skills without any class restrictions. Set out into the fantastic world of Grindea, where you'll fight monsters and bosses, make new friends, and go on a quest for hidden treasures. In addition, the game also features a roguelike mode and a co-op mode for up to four players. If you can't find anyone to play with you, PLITCH will gladly take over that role. Our exclusive Training-Codes and Cheats are the perfect addition to your gameplay!
Supported Stores*:
Developer: Release Year: Latest Trainer Update:
Pixel Ferrets
2015
3/9/2022
Full Name: Publisher:
Secrets of Grindea
Pixel Ferrets
You may also like these games