The Last Campfire


Trainer & Cheats

by

The Last Campfire


Trainer & Cheats

by

Top 2 cheats in PLITCH
Free Cheats
Set Movement-Speed (default = 6)
Set Carry Movement-Speed (default = 6)
See all cheats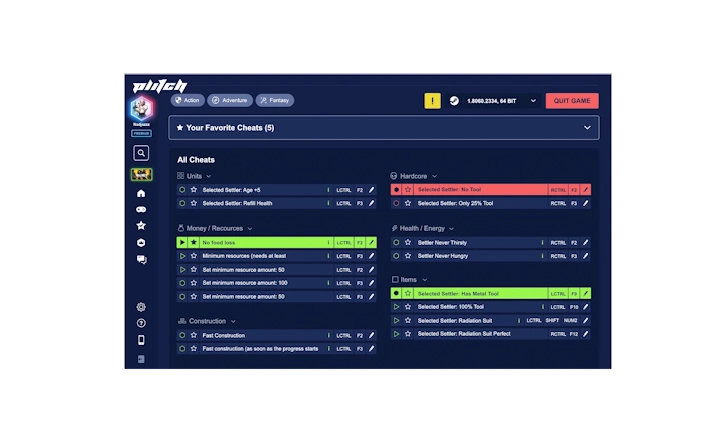 3 Cheat Codes
The Last Campfire
Download and install PLITCH.
Create a free or premium account.
Open the client, search for your game, and start PLITCHing.*
* You need to purchase The Last Campfire in one of the supported stores to use it with PLITCH.
Free Cheats for The Last Campfire
These cheats are for free and available for everyone.
Set Movement-Speed (default = 6)
Set Carry Movement-Speed (default = 6)
FAQ and More
The Last Campfire – Trapped in a dark forest
The Last Campfire is a 2021 adventure game that follows the story of a lost ember trapped in a dark forest filled with strange creatures and mysterious ruins. PLITCH is a trainer for gamers that allows you to use cheat codes in the game. It helps whenever you're stuck and gives you the chance to increase the fun of your game, as well as increasing skills through our hardcore cheat option. The PLITCH The Last Campfire Trainer is a next-level way to make your gaming adventure more appealing. Instead of trying to complete levels or challenges by spending hours, you can use our The Last Campfire Cheats and get all the help you need – try it for free!
Supported Stores*:
Developer: Release Year: Latest Trainer Update:
Hello Games
2021
12/10/2021
Full Name: Publisher:
The Last Campfire
Hello Games
Developer: Release Year: Latest Trainer Update: Full Name: Publisher: Supported Stores*:
Hello Games
2021
12/10/2021
The Last Campfire
Hello Games
You may also like these games