Assassin's Creed Odyssey


Trainer & Cheats

by

Assassin's Creed Odyssey


Trainer & Cheats

by

Top 4 cheats in PLITCH
Free Cheats
+100 experience
-100 Experience
Premium Cheats
+1.000 Drachmen (money)
Infinite items/arrows
See all cheats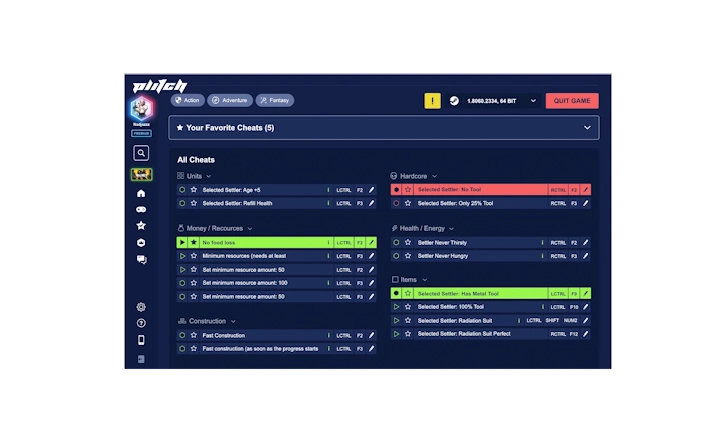 23 Cheat Codes
Assassin's Creed Odyssey
Download and install PLITCH.
Create a free or premium account.
Open the client, search for your game, and start PLITCHing.*
* You need to purchase Assassin's Creed Odyssey in one of the supported stores to use it with PLITCH.
Free Cheats for Assassin's Creed Odyssey
These cheats are for free and available for everyone.
Premium Cheats for Assassin's Creed Odyssey
These cheats are only available for premium users.
Instant skill cooldown (ships)
Unlimited spear upgrades (Spear Of Leonidas)
FAQ and More
Assassin's Creed Odyssey – Become a living legend in ancient Greece!
Assassin's Creed Odyssey sends you to ancient Greece, a land full of myths and legends. As a Spartan, you'll experience the conflicts with Athens firsthand, and for the first time in the franchise's history, the game features gigantic battles with over 100 NPCs. Ancient Greece offers extraordinary settings and a story that stretches over more than 50 hours. Choose your character and become a legend with PLITCH's Assassin's Creed Odyssey PC cheats! The 23 cheat codes from our Assassin's Creed Odyssey trainer will help you with anything ancient Greece throws your way.
Supported Stores*:
Developer: Release Year: Latest Trainer Update:
Ubisoft QuebecUbisoft BucharestUbisoft MontrealUbisoft ShanghaiUbisoft KievUbisoft Montpellier
2018
12/15/2021
Full Name: Publisher:
Assassin's Creed Odyssey
Ubisoft
You may also like these games
Forum
Assassin's Creed Odyssey