Curved Space


Trainer & Cheats

by

Curved Space


Trainer & Cheats

by

Top 4 cheats in PLITCH
Free Cheats
Easy Score x1,000
Refill health
Premium Cheats
Easy Score x10,000
Easy Score x100,000
See all cheats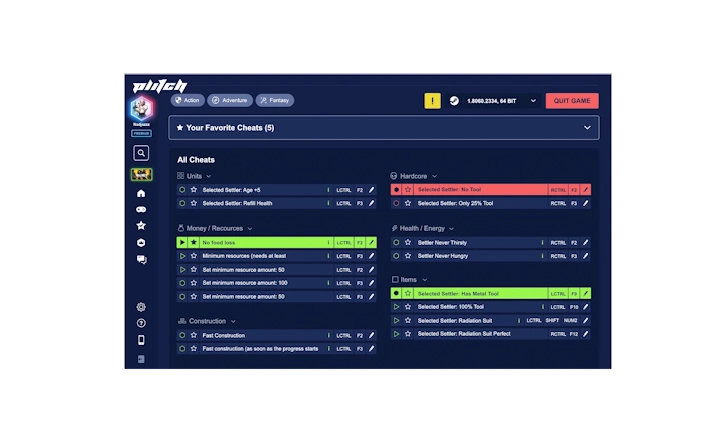 13 Cheat Codes
Curved Space
Download and install PLITCH.
Create a free or premium account.
Open the client, search for your game, and start PLITCHing.*
* You need to purchase Curved Space in one of the supported stores to use it with PLITCH.
Free Cheats for Curved Space
These cheats are for free and available for everyone.
Set Forward Speed (default = 9)
Set Strafe Speed (default = 7.65)
Premium Cheats for Curved Space
These cheats are only available for premium users.
FAQ and More
Curved Space – A new dimension in twin-stick shooters
Reach for the stars and blast some spiders! Curved Space is a retro-inspired arcade shooter that takes place in a warped 3D space. Battle across strange landscapes and collect weapon upgrades and abilities to take down the cosmic invaders. This isn't your average shooter – experience high-energy action like you've never seen before! With PLITCH's Curved Space Trainer, you'll finally have an edge over your enemies! This software provides cheat codes that make the game more unique and fun. Use them in single-player mode to train your skills and become unbeatable. With our cheat table, you can find free and premium Curved Space cheats to help you dominate the game. So what are you waiting for? Get PLITCH's Curved Space Trainer today and benefit from our health cheat, energy cheat, lives cheat and many more!
Supported Stores*:
Developer: Release Year: Latest Trainer Update:
Only By Midnight Ltd.
2021
6/30/2021
Full Name: Publisher:
Curved Space
Maximum Games
You may also like these games