Hades


Trainer & Cheats

by

Hades


Trainer & Cheats

by

Top 4 cheats in PLITCH
Free Cheats
Add Lock keys
Add Gems
Premium Cheats
Godmode
One-Hit-Kill
See all cheats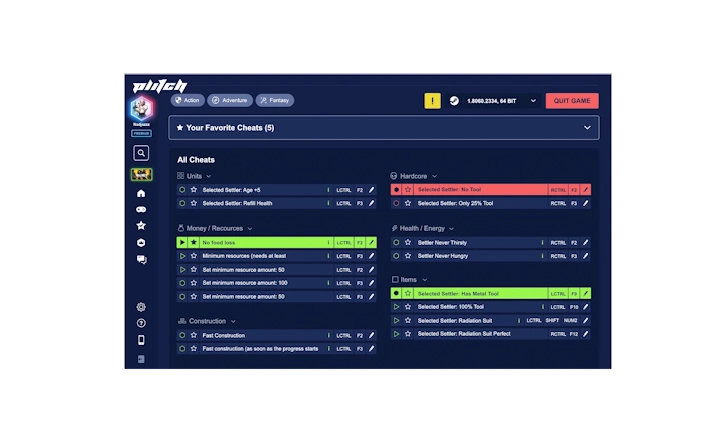 11 Cheat Codes
Hades
Download and install PLITCH.
Create a free or premium account.
Open the client, search for your game, and start PLITCHing.*
* You need to purchase Hades in one of the supported stores to use it with PLITCH.
Free Cheats for Hades
These cheats are for free and available for everyone.
Premium Cheats for Hades
These cheats are only available for premium users.
FAQ and More
Hades - Heated battles in the underworld!
In Hades, a roguelike action game, you play as Zagreus and have to fight your way out of the underworld. The combat system is amazing! You're guaranteed to never get bored since you're constantly confronted by a randomized variety of enemies. Moreover, unlike other roguelikes, Hades doesn't make you go back to zero when you die. Instead, you come back a little stronger each time. The game offers overwhelming challenges at times, so don't hesitate to activate the Hades PC cheats from PLITCH. Our Hades trainer contains 11 cheat codes that will help you get out of hell in no time.
Supported Stores*:
Developer: Release Year: Latest Trainer Update:
Supergiant Games
2018
2/16/2022
You may also like these games