Hokko Life


Trainer & Cheats

by

Hokko Life


Trainer & Cheats

by

Top 4 cheats in PLITCH
Free Cheats
Unlimited stamina
Set Movement Speed (default = 6)
Premium Cheats
Set Highlighted Item
Add Money
See all cheats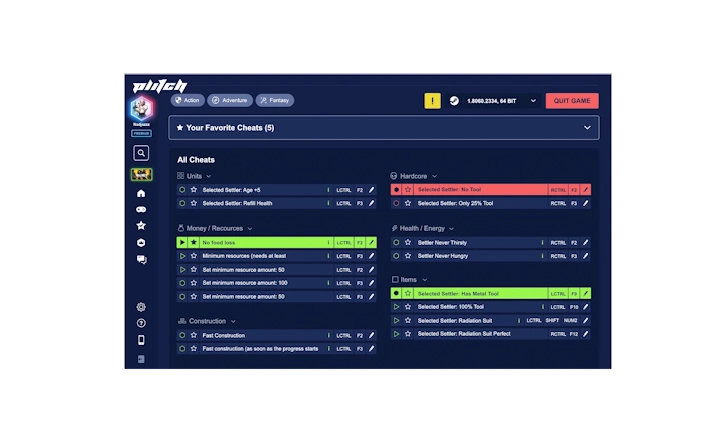 6 Cheat Codes
Hokko Life
Download and install PLITCH.
Create a free or premium account.
Open the client, search for your game, and start PLITCHing.*
* You need to purchase Hokko Life in one of the supported stores to use it with PLITCH.
Free Cheats for Hokko Life
These cheats are for free and available for everyone.
Set Movement Speed (default = 6)
Premium Cheats for Hokko Life
These cheats are only available for premium users.
FAQ and More
Hokko Life - Explore and experience the colorful city of Hokko full of interesting residents and activities!
Early-Access-game Hokko Life is a casual RPG and is very similar to Animal Crossing only for PC. It focuses on a relaxed and cozy gameplay experience, characterized by creativity. Move into your new home, Hokko, and add your personal touches to the quiet, charming little town. With hammer and paint in hand, you decide which materials you want to convert into furniture and which design fits best. You'll be especially free to decorate your house, grow vegetables and other plants, fish for the most unusual fish species, and much more. Enchant your little town and make the inhabitants of Hokko overjoyed! With our exclusive PLITCH Training-Codes and Cheats, you'll be able to achieve the big goals of your little dream town with ease in just a short time.
Supported Stores*:
Developer: Release Year: Latest Trainer Update:
Developer: Release Year: Latest Trainer Update: Full Name: Publisher: Supported Stores*:
Wonderscope
2021
3/29/2023
Hokko Life
Team17
You may also like these games