Jagged Alliance 3


Trainer & Cheats

by

Jagged Alliance 3


Trainer & Cheats

by

Top 4 cheats in PLITCH
Free Cheats
Add Money
Sub Money
Premium Cheats
+10 Action Points (active unit)
1 Action Point (active unit)
See all cheats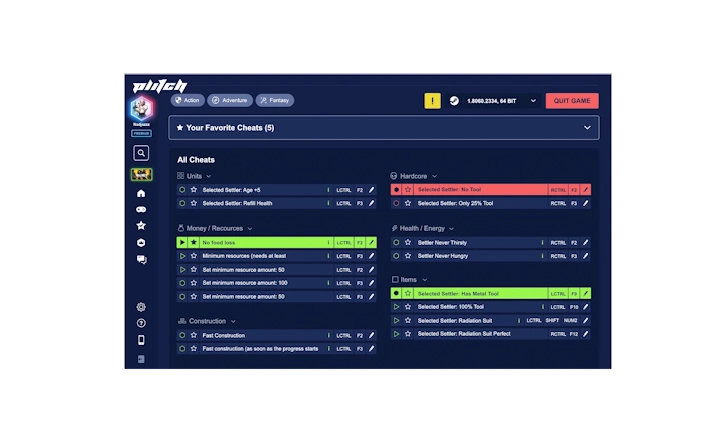 7 Cheat Codes
Jagged Alliance 3
Download and install PLITCH.
Create a free or premium account.
Open the client, search for your game, and start PLITCHing.*
* You need to purchase Jagged Alliance 3 in one of the supported stores to use it with PLITCH.
Free Cheats for Jagged Alliance 3
These cheats are for free and available for everyone.
Premium Cheats for Jagged Alliance 3
These cheats are only available for premium users.
+10 Action Points (active unit)
1 Action Point (active unit)
Set Hit Points (active unit)
Set Clip Ammo (active unit)
FAQ and More
Jagged Alliance 3 – Restore peace in Gran Chien
In Jagged Alliance 3, the nation of Grand Chien faces turmoil when the President goes missing and "The Legion" takes control. The President's family partners with the Adonis corporation to hire skilled mercenaries. Choose from a diverse roster of mercenaries, each with their own personalities and backgrounds. Explore Grand Chien, meet new people, earn money, expand your team, and shape the country's destiny with your decisions. If you want to boost your gameplay, PLITCH's Jagged Alliance 3 cheats are the way to go. Our Jagged Alliance 3 trainer provides cheat codes to level up your gaming experience.
Supported Stores*:
Developer: Release Year: Latest Trainer Update:
Haemimont Games
2023
11/21/2023
Full Name: Publisher:
Jagged Alliance 3
THQ Nordic
Developer: Release Year: Latest Trainer Update: Full Name: Publisher: Supported Stores*:
Haemimont Games
2023
11/21/2023
Jagged Alliance 3
THQ Nordic
Shape the destiny of a land!
Restore peace with the help of PLITCH's Jagged Alliance 3 cheats
Why should you play Jagged Alliance 3 with our game trainer?
Let's talk about the fantastic world of single-player games and how you can enhance your experience with Jagged Alliance 3 cheats using PLITCH!

PLITCH is an amazing game trainer software that adds a whole new level of fun and excitement to your gameplay. Experience the thrill of limitless possibilities as you explore the game's content in unique ways. Cheat codes aren't just about getting an edge; they open up a realm of creativity that allows you to experiment and discover hidden gems within the game.

With PLITCH, you can unlock multiple Jagged Alliance 3 cheats. Add money or get infinite action points. If you're up for a challenge, try resetting your money to 0. Who said cheating was a bad thing? In single-player mode, it's all about enjoying the game on your terms, and PLITCH enables you to do just that.

So, dive into Jagged Alliance 3, armed with the incredible power of PLITCH's Jagged Alliance 3 cheats, and unlock your full gaming potential. Embrace the joy of exploration, overcome the challenges, and make this adventure truly your own.

Happy Gaming!
How does the Jagged Alliance 3 trainer from PLITCH differ from other game trainers?
Are you ready to take your single-player PC gaming to a whole new level? Imagine creating your own rules, making games as easy or challenging as you want them to be, and enjoying every moment of it. What makes PLITCH, especially its Jagged Alliance 3 cheats, stand out from the crowd? Let's dive in and discover what makes our platform truly special.


The power of customization: PLITCH isn't just about game cheats; it's a universe of possibilities. Like a master chef customizing their signature dish, PLITCH empowers you to tailor your gaming experience to perfection. Those who think cheats only make games easier are in for a surprise. With PLITCH, you're not limited to just that. Take Jagged Alliance 3, for example. From adding money to manipulating resources, PLITCH lets you fine-tune every aspect of the game to match your desired level of challenge.


Your game, your rules: Ever wished you could change the difficulty of a game to suit your mood or skill level? PLITCH lets you do just that. Play the tactical genius with Jagged Alliance 3 cheats that give you extra action points and clip ammo, or spice things up by reducing your hit points to see if you can still triumph.


Safety first: A common concern among players is the safety and legality of using cheats. PLITCH takes those concerns off the table. Designed for single-player experiences only, PLITCH's cheat codes work by accessing your PC's RAM, ensuring that they won't compromise your game files or cause unwanted consequences. You can rest assured that your account won't be banned for using PLITCH cheats. With certifications from COMODO and Sectigo and adherence to strict privacy laws, PLITCH puts your privacy and security first.


Seamless experience: PLITCH offers an all-in-one client designed with ease of use in mind. Available in multiple languages, the client features an easy-to-use interface that allows you to activate cheats with a single click. Imagine the convenience of custom hotkeys for each cheat, or even using the overlay application to activate cheats in-game without having to switch tabs. And with PLITCH's constant updates and quick releases, you'll always have access to the latest cheats, even for brand-new games like Jagged Alliance 3.
You may also like these games