Little Nightmares


Trainer & Cheats

by

Little Nightmares


Trainer & Cheats

by

Top 5 cheats in PLITCH
Free Cheats
Set Movement-speed (default = 1)
Character-size: increase
Character-size: decrease
Character-Size: Normal
Increase Position X
See all cheats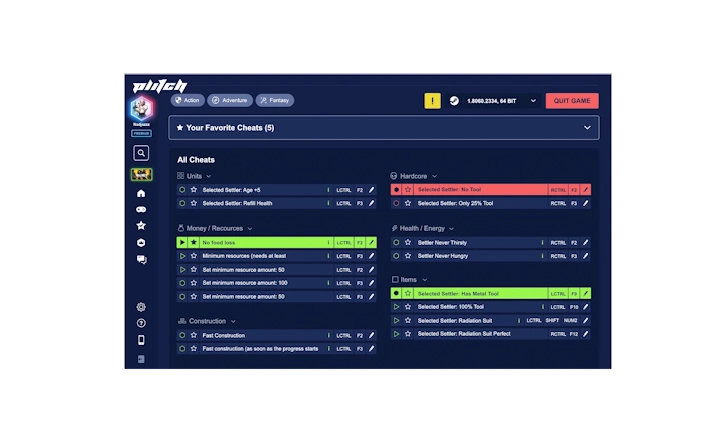 11 Cheat Codes
Little Nightmares
Download and install PLITCH.
Create a free or premium account.
Open the client, search for your game, and start PLITCHing.*
* You need to purchase Little Nightmares in one of the supported stores to use it with PLITCH.
Free Cheats for Little Nightmares
These cheats are for free and available for everyone.
Set Movement-speed (default = 1)
FAQ and More
Little Nightmares - recreating childhood nightmares
Little Nightmares is a horror-game with innovative new approaches. Immerse yourself in a dark children's world and put yourself in Six's shoes. She is pursued by mysterious dark monsters who want to eat her. Help her in her mission to escape from the dollhouse without getting devoured. The game relies visually a lot on your imagination. This is especially reinforced with the help of the music and the mostly invisible threats. The atmosphere of the game is also very unique due to the theme. Together with our exclusive PLITCH Training-Codes and Cheats, you will put every monster to flight.
Supported Stores*:
Developer: Release Year: Latest Trainer Update:
Tarsier Studios
2017
5/6/2021
Full Name: Publisher:
Little Nightmares
Bandai Namco
Developer: Release Year: Latest Trainer Update: Full Name: Publisher: Supported Stores*:
Tarsier Studios
2017
5/6/2021
Little Nightmares
Bandai Namco
You may also like these games