METAL SLUG


Trainer & Cheats

by

METAL SLUG


Trainer & Cheats

by

Top 5 cheats in PLITCH
Free Cheats
Godmode
Unlimited lives
Unlimited Bombs
Unlimited Ammo
Freeze Timer
See all cheats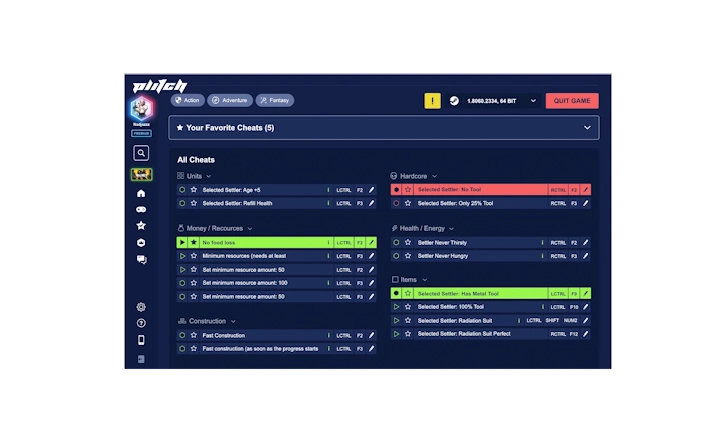 6 Cheat Codes
METAL SLUG
Download and install PLITCH.
Create a free or premium account.
Open the client, search for your game, and start PLITCHing.*
* You need to purchase METAL SLUG in one of the supported stores to use it with PLITCH.
Free Cheats for METAL SLUG
These cheats are for free and available for everyone.
FAQ and More
METAL SLUG – Heavily Armored Retro Action
The video-game-classic METAL SLUG is a 2D-run&gun-action-shooter by Dotemu and SNK, which was released in 1996 and has been available on Steam since 2015. The game includes an arcade mode in which the protagonists Marco and Tarma have to thwart the evil plans of Gen. Morden in six missions, a mission mode where you can play selected missions at will, and an online co-op mode. Control the heavily armed "METAL SLUG" tank and blast your way through action-packed levels. PLITCH will become your trusty brother in arms with our exclusive Training-Codes and Cheats!
Supported Stores*:
Developer: Release Year: Latest Trainer Update:
Full Name: Publisher:
METAL SLUG
SNK CORPORATION
Developer: Release Year: Latest Trainer Update: Full Name: Publisher: Supported Stores*:
Dotemu
2015
3/28/2023
METAL SLUG
SNK CORPORATION
You may also like these games