Nimbus INFINITY


Trainer & Cheats

by

Nimbus INFINITY


Trainer & Cheats

by

Top 4 cheats in PLITCH
Free Cheats
Refill health
Low health
Premium Cheats
Unlimited Ammo
Godmode: ON
See all cheats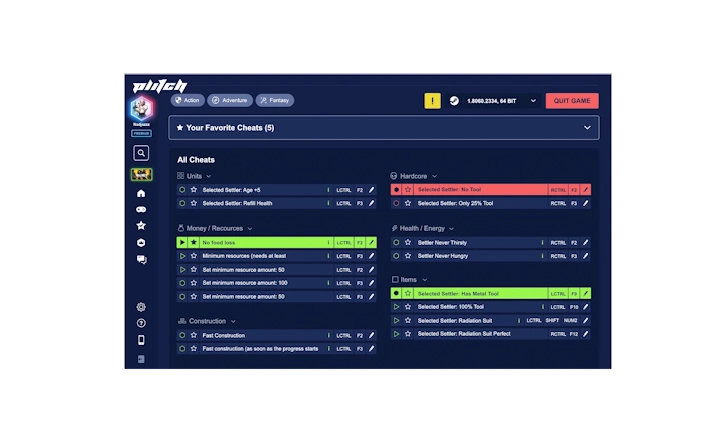 11 Cheat Codes
Nimbus INFINITY
Download and install PLITCH.
Create a free or premium account.
Open the client, search for your game, and start PLITCHing.*
* You need to purchase Nimbus INFINITY in one of the supported stores to use it with PLITCH.
Free Cheats for Nimbus INFINITY
These cheats are for free and available for everyone.
Set Player Speed (default = 1)
Premium Cheats for Nimbus INFINITY
These cheats are only available for premium users.
FAQ and More
Nimbus INFINITY – Mechs on a mission
Pilots of the future, assemble! The war-torn Earth of Project Nimbus has begun to recover, and a new generation of mech pilots is ready to take flight. Equip your Battle Frame with deadly weapons and soar through variant battlefields, discovering the story of these brave warriors. Nimbus INFINITY is the high-speed sequel to Project Nimbus, featuring intense mecha combat across beautiful and dangerous landscapes. Train your piloting skills to become the best player with the Nimbus INFINITY Trainer from PLITCH. With our cheat codes, you'll be able to breeze through any challenge and unlock everything the game has to offer. Get the most out of your gaming experience with our exclusive Nimbus INFINITY cheats!
Supported Stores*:
Developer: Release Year: Latest Trainer Update:
GameCrafterTeamGameTomo Co., Ltd.
2022
11/15/2023
Full Name: Publisher:
Nimbus INFINITY
GameTomo Co., Ltd.
You may also like these games