Painkiller - Black Edition


Trainer & Cheats

by

Painkiller - Black Edition


Trainer & Cheats

by

Painkiller - Black Edition
Top 5 cheats in PLITCH
Free Cheats
Godmode
Unlimited armor
Set Health
Low health
Set Armor
See all cheats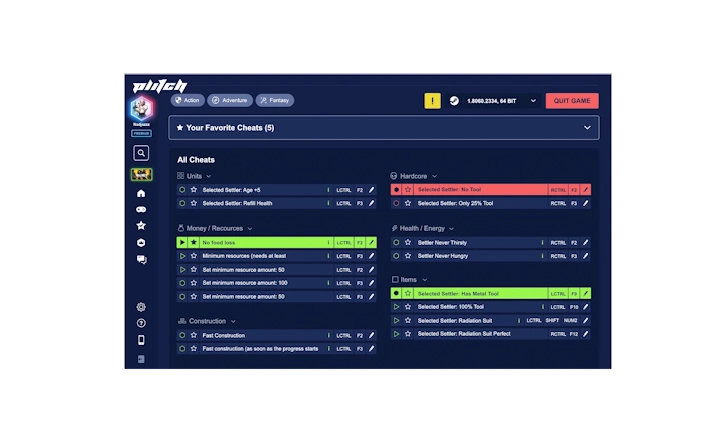 9 Cheat Codes
Painkiller - Black Edition
Download and install PLITCH.
Create a free or premium account.
Open the client, search for your game, and start PLITCHing.*
* You need to purchase Painkiller - Black Edition in one of the supported stores to use it with PLITCH.
Free Cheats for Painkiller - Black Edition
These cheats are for free and available for everyone.
FAQ and More
Painkiller: Black Edition – The Dead Avenger
Painkiller: Black Edition is a first-person-shooter that hit the shelves back in 2004. You play the protagonist Daniel Garner, who has died in a car crash. Instead of going to heaven, however, you'll find yourself in a nightmarish world where dark forces fight for world domination. As "Painkiller" you see yourself obligated to defend your former home against the hordes of the underworld. The Black Edition contains all the 14 original levels of the video-game, including the 10 additional ones of the Battle Out of Hell DLC. And PLITCH, of course, is at your side once more with our exclusive Training-Codes and Cheats!
Supported Stores*:
Developer: Release Year: Latest Trainer Update:
People Can Fly
2004
5/24/2021
Full Name: Publisher:
Painkiller - Black Edition
Deep Silver
Developer: Release Year: Latest Trainer Update: Full Name: Publisher: Supported Stores*:
People Can Fly
2004
5/24/2021
Painkiller - Black Edition
Deep Silver
You may also like these games