STARFIELD


Trainer & Cheats

by

STARFIELD


Trainer & Cheats

by

Top 4 cheats in PLITCH
Free Cheats
Unlimited Cutter Energy
No item decrease
Premium Cheats
Godmode
No Reload
See all cheats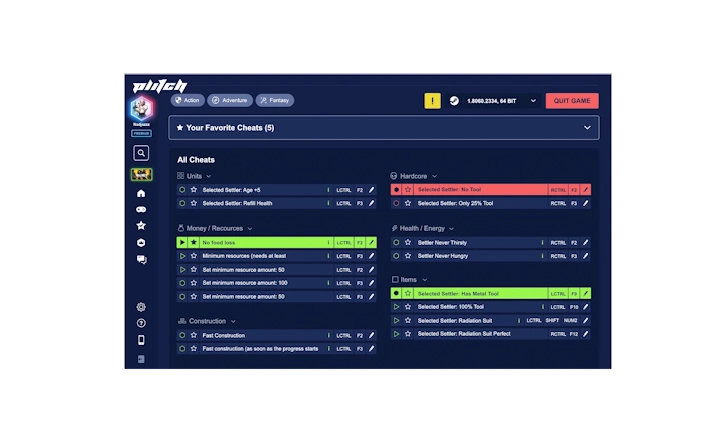 36 Cheat Codes
STARFIELD
Download and install PLITCH.
Create a free or premium account.
Open the client, search for your game, and start PLITCHing.*
* You need to purchase STARFIELD in one of the supported stores to use it with PLITCH.
Free Cheats for STARFIELD
These cheats are for free and available for everyone.
Premium Cheats for STARFIELD
These cheats are only available for premium users.
Infinite Ship Weapon Energy
Set Item-Count (last clicked in inventory)
FAQ and More
STARFIELD – Explore Bethesda's new universe
Embark on an interstellar odyssey in STARFIELD, the latest masterpiece from Bethesda Game Studios. Create your own unique character and venture into uncharted galaxies to solve mankind's ultimate mystery. Set in the year 2330, explore a universe where space pioneers roam distant planets. Join Constellation, a group of intrepid explorers on a quest for cosmic relics. Prepare to embark on an epic journey through boundless space in Bethesda's greatest endeavor yet. To fully immerse yourself in this amazing world, use PLITCH's STARFIELD cheats to customize the game to your liking. Choose the cheat codes you want from our STARFIELD trainer and freely explore a new galaxy.
Supported Stores*:
Developer: Release Year: Latest Trainer Update:
Bethesda Game Studios
2023
11/21/2023
Full Name: Publisher:
STARFIELD
Bethesda Softworks
Developer: Release Year: Latest Trainer Update: Full Name: Publisher: Supported Stores*:
Bethesda Game Studios
2023
11/21/2023
STARFIELD
Bethesda Softworks
Soar freely through the universe with PLITCH's STARFIELD cheats
Never run out of skill points with our STARFIELD game trainer
How can you enhance your gameplay with our cheats?
Enhance your PC gaming experience with PLITCH's innovative STARFIELD Game Trainer. Designed exclusively for single-player enjoyment, these STARFIELD cheats and mods allow players to customize their adventure in exciting ways. From unleashing unlimited cutter energy to ensuring a full health bar, PLITCH offers a range of cheat codes that enhance the gaming journey without limitations.
Imagine exploring the universe with STARFIELD Mods like infinite ammo, infinite ship weapon energy, and even an impenetrable shield using Godmode. PLITCH opens up possibilities and lets you focus on exploring and storytelling, free from worrying about setbacks. Want to master multiple skills? Add and subtract skill points effortlessly. Dive deep into research and construction with free research and construction cheats.
Imagine breezing through dialogues with infinite turns, moving freely with unlimited boost pack energy, and crafting without the burden of weight. With PLITCH, cheat codes aren't about breaking the rules, they add to the fun, transforming your STARFIELD adventure into an extraordinary saga. So embrace the positive side of cheating and embark on a journey that's uniquely yours with PLITCH and STARFIELD.
Happy Gaming!
Unlock Your Cosmic Potential with STARFIELD Cheats from PLITCH!
Ready to embark on an epic interstellar adventure in STARFIELD? PLITCH's game trainer and cheat codes are here to enhance your single-player PC gaming experience like never before. Here's why the STARFIELD cheats from PLITCH are out of this world:
Total game customization: PLITCH offers a galaxy of cheat codes to customize your STARFIELD journey. Do you want to explore the cosmos with unlimited resources or test your skills with additional challenges? PLITCH gives you the freedom to make your game as easy or as challenging as you want.


Security and legality: Worried about legal and security issues? Rest assured, PLITCH's cheats are 100% safe and legal. They don't violate copyright laws or damage your game files. Moreover, these cheats are only for single-player mode, ensuring no disruption to multiplayer games.


User-friendly interface: PLITCH's client is a breeze to use, available in multiple languages, and offers customizable hotkeys for each cheat. An overlay application simplifies in-game activation, eliminating the need to switch tabs or remember hotkeys.


Always up-to-date: PLITCH stays ahead of the curve with timely updates. You won't have to wait for patches or worry about compatibility issues. Enjoy cheats for the latest games on launch day or shortly after.


Exceptional customer support: PLITCH prides itself on its world-class customer service. Whether you need help, want to connect with other players, or have specific trainer requests, PLITCH's Discord server and forum have you covered.


Unleash your stellar potential and conquer the cosmos with PLITCH's STARFIELD cheats. Customize, conquer, and explore the universe on your terms.

Happy Gaming, space traveler!
You may also like these games