We Are The Caretakers


Trainer & Cheats

by

We Are The Caretakers


Trainer & Cheats

by

Top 4 cheats in PLITCH
Free Cheats
Add Coins
Reset coins to 0
Premium Cheats
Add Research Points
Reset research points to 0
See all cheats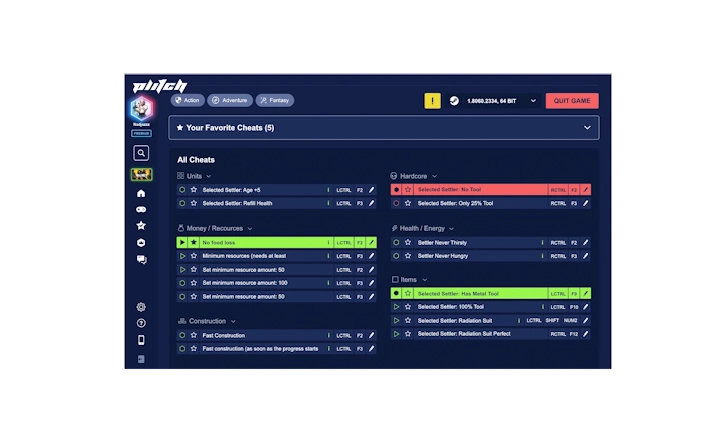 7 Cheat Codes
We Are The Caretakers
Download and install PLITCH.
Create a free or premium account.
Open the client, search for your game, and start PLITCHing.*
* You need to purchase We Are The Caretakers in one of the supported stores to use it with PLITCH.
Free Cheats for We Are The Caretakers
These cheats are for free and available for everyone.
Premium Cheats for We Are The Caretakers
These cheats are only available for premium users.
Reset research points to 0
FAQ and More
We Are The Caretakers - Protectors Defend Their Home to the End
The multi-award-winning game We Are The Caretakers is a squad-management-RPG developed by Heart Shaped Games LLC. You take on the role of the protectors of a planet in a Sci-Fi world and defend nature and its creatures. Use your resources strategically in the game, experience the exciting reputation system, and compete in the turn-based battle system. Every decision you make in the game affects how others perceive you through your reputation. With our exclusive PLITCH Training-Codes and Cheats, a multitude of people will join your intentions.
Supported Stores*:
Developer: Release Year: Latest Trainer Update:
Heart Shaped Games LLC
2021
1/27/2023
Full Name: Publisher:
We Are The Caretakers
Heart Shaped Games LLC
Developer: Release Year: Latest Trainer Update: Full Name: Publisher: Supported Stores*:
Heart Shaped Games LLC
2021
1/27/2023
We Are The Caretakers
Heart Shaped Games LLC
You may also like these games