Infernax


Trainer & Cheats

by

Infernax


Trainer & Cheats

by

Top 4 cheats in PLITCH
Free Cheats
2x Movement speed
3x movement speed
Premium Cheats
+500 XP
+3 Lives
See all cheats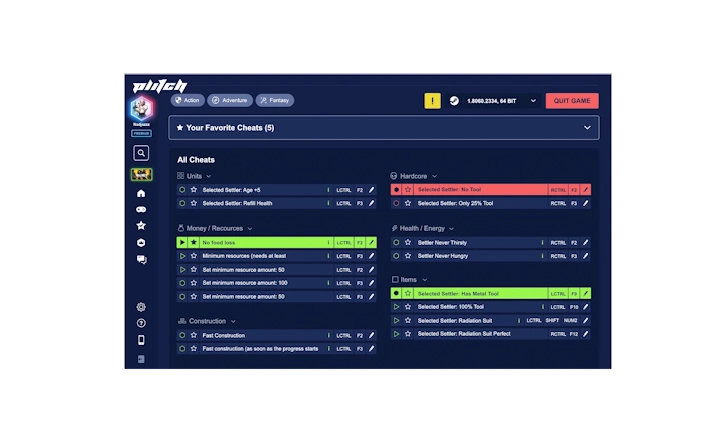 11 Cheat Codes
Infernax
Download and install PLITCH.
Create a free or premium account.
Open the client, search for your game, and start PLITCHing.*
* You need to purchase Infernax in one of the supported stores to use it with PLITCH.
Free Cheats for Infernax
These cheats are for free and available for everyone.
Premium Cheats for Infernax
These cheats are only available for premium users.
FAQ and More
Infernax – out of the frying pan and into the fire
In Infernax you play a knight who, after a long adventure, returns to his homeland, only to find it besieged by dark magic. He must venture deep into the cursed lands to uncover the source of this corruption and put an end to it. Infernax is a retro-style adventure game where you fight monsters, discover secrets, and become stronger with each battle. Gear up and get ready for some intense monster bashing! The Infernax Trainer by PLITCH is the ultimate solution for gamers who are looking for something different. With our cheat codes, you can easily bypass any obstacle and enjoy the game to its fullest potential. Whether you're stuck on a challenging level or just looking to have more fun, our Infernax cheats cover everything you need. So don't wait any longer – download PLITCH today for free!
Supported Stores*:
Developer: Release Year: Latest Trainer Update:
Berzerk Studio
2022
4/6/2023
You may also like these games