Lies of P


Trainer & Cheats

by

Lies of P


Trainer & Cheats

by

Top 4 cheats in PLITCH
Free Cheats
Set Movement Speed (default = 1)
Set Player Level
Premium Cheats
Unlimited Health
Unlimited stamina
See all cheats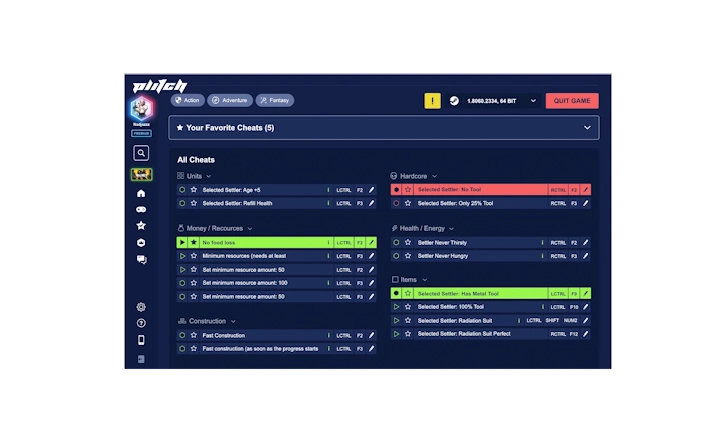 15 Cheat Codes
Lies of P
Download and install PLITCH.
Create a free or premium account.
Open the client, search for your game, and start PLITCHing.*
* You need to purchase Lies of P in one of the supported stores to use it with PLITCH.
Free Cheats for Lies of P
These cheats are for free and available for everyone.
Set Movement Speed (default = 1)
Premium Cheats for Lies of P
These cheats are only available for premium users.
Unlimited weapon durability
FAQ and More
Lies of P – Pinocchio meets Souls-gameplay
Lies of P is a captivating souls-like game that reimagines Pinocchio's tale in the Belle Epoque era. As a puppet created by Geppetto, you're ensnared in a world of deception, facing monstrous foes and treacherous characters. Guided by a mysterious voice, explore the tainted city of Krat, once vibrant, now consumed by madness. Adapt and arm yourself against horrors, uncover the secrets of the city's elite, and decide whether truth or deception will be your path to self-discovery. If you want to make this amazing game even better, try playing it with PLITCH's Lies of P cheats. The cheat codes from our Lies of P trainer enable you to customize the game to your liking.
Supported Stores*:
Developer: Release Year: Latest Trainer Update:
You may also like these games