Metro Exodus Enhanced Edition


Trainer & Cheats

by

Metro Exodus Enhanced Edition


Trainer & Cheats

by

Metro Exodus Enhanced Edition
Top 4 cheats in PLITCH
Free Cheats
Infinite medikits
Premium Cheats
Infinite throwables
Infinite ammo/crafting-materials
No Reload
See all cheats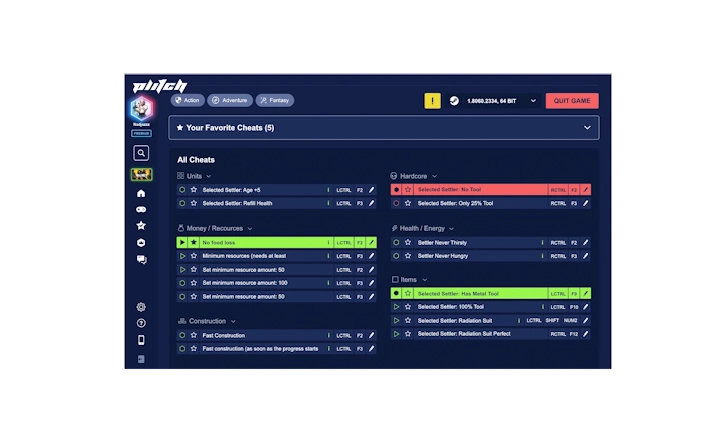 10 Cheat Codes
Metro Exodus Enhanced Edition
Download and install PLITCH.
Create a free or premium account.
Open the client, search for your game, and start PLITCHing.*
* You need to purchase Metro Exodus Enhanced Edition in one of the supported stores to use it with PLITCH.
Free Cheats for Metro Exodus Enhanced Edition
These cheats are for free and available for everyone.
Premium Cheats for Metro Exodus Enhanced Edition
These cheats are only available for premium users.
Infinite ammo/crafting-materials
Unlimited flashlight energy
FAQ and More
Metro Exodus: Enhanced Edition – Never Has a Post-Apocalyptic Landscape Looked So Good
The video-game Metro Exodus: Enhanced Edition takes you back to the post-apocalyptic nuclear wasteland of Russia. The varied landscapes and locations were already brilliantly staged and simply breathtaking to look at back in 2019 when the first-person-shooter Metro Exodus was released. Now, the Ukrainian developer 4A Games is taking it to the next level and allowing PC gamers to explore this world once again, – but this time with the latest ray-tracing technology! So mount your weapon, grab your gas mask, boot up PLITCH and immerse yourself once again in the universe of Russian author Dmitri Alexeyevich Gluchovsky with our exclusive Training-Codes and Cheats!
Supported Stores*:
Developer: Release Year: Latest Trainer Update:
Full Name: Publisher:
Metro Exodus Enhanced Edition
Deep SilverKoch Media
You may also like these games
Forum
Metro Exodus Enhanced Edition