Mundaun


Trainer & Cheats

by

Mundaun


Trainer & Cheats

by

Top 5 cheats in PLITCH
Free Cheats
Godmode
Refill health
Low health
Set Walking-Speed (default = 3.5)
Set Run-Speed (default = 6)
See all cheats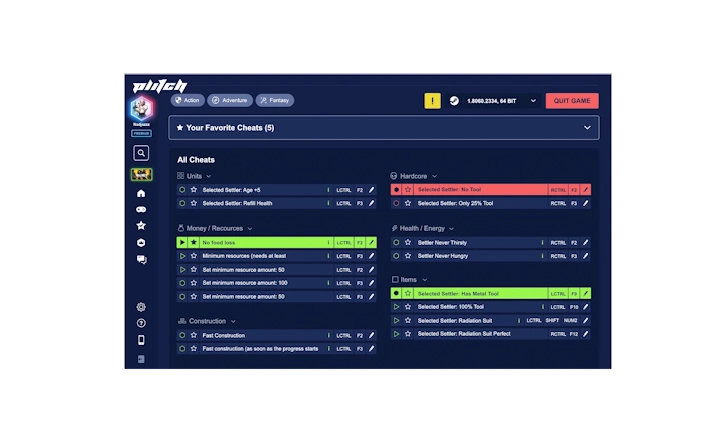 8 Cheat Codes
Mundaun
Download and install PLITCH.
Create a free or premium account.
Open the client, search for your game, and start PLITCHing.*
* You need to purchase Mundaun in one of the supported stores to use it with PLITCH.
Free Cheats for Mundaun
These cheats are for free and available for everyone.
Set Walking-Speed (default = 3.5)
Set Run-Speed (default = 6)
Set Jump-Cooldown (default = 1)
Set Jump-Height (default = 0.2)
FAQ and More
Mundaun - The Cursed Mountain
In the story-focused action-adventure-horror-video-game Mundaun you travel to your late grandfather's hometown in a secluded valley in the Alps to investigate his mysterious death. You explore the mountain Mundaun where reality and myths seem to blend together. The residents of the area are haunted by scary creatures, which you'll also have to watch out for. The game features unique hand-drawn 3D graphics with a grayscale aesthetic that adds an eerie touch to the game. PLITCH helps you not fall prey to fear with our exclusive Training-Codes and Cheats!
Supported Stores*:
Developer: Release Year: Latest Trainer Update:
Hidden Fields
2021
9/20/2023
Developer: Release Year: Latest Trainer Update: Full Name: Publisher: Supported Stores*:
Hidden Fields
2021
9/20/2023
Mundaun
MWM Interactive
You may also like these games