No Place Like Home


Trainer & Cheats

by

No Place Like Home


Trainer & Cheats

by

Top 3 cheats in PLITCH
Free Cheats
Increase selected Item (mouse-over)
Decrease selected item (mouse-over)
Premium Cheats
Unlimited Ammo
See all cheats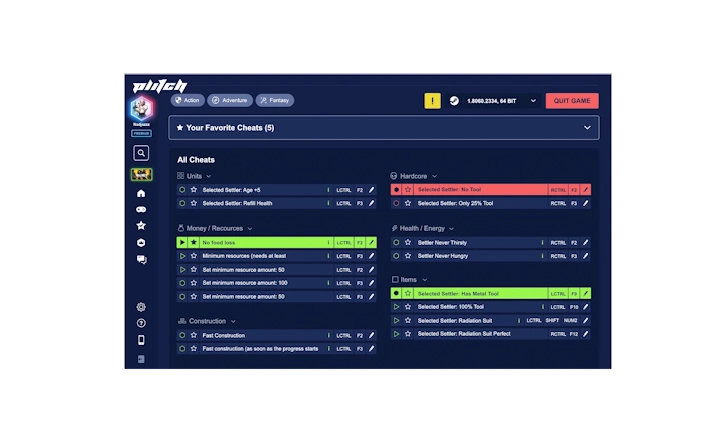 4 Cheat Codes
No Place Like Home
Download and install PLITCH.
Create a free or premium account.
Open the client, search for your game, and start PLITCHing.*
* You need to purchase No Place Like Home in one of the supported stores to use it with PLITCH.
Free Cheats for No Place Like Home
These cheats are for free and available for everyone.
Increase selected Item (mouse-over)
Decrease selected item (mouse-over)
Premium Cheats for No Place Like Home
These cheats are only available for premium users.
FAQ and More
No Place Like Home - Mission: Clean Up the Earth!
After turning Earth uninhabitable through pollution, humanity in the indie-adventure-RPG-video-game No Place Like Home has left for Mars i. Only a few people have remained on our home planet, and you play one of them. Your task is to clean up the world - or at least part of it. To achieve this goal, you'll have to collect resources, grow vegetables, and help animals or robots out of trouble to turn them into your allies in return. Our exclusive PLITCH Cheats and Training-Codes will be your allies from the very beginning!
Supported Stores*:
Developer: Release Year: Latest Trainer Update:
Chicken Launcher
2020
5/15/2023
Full Name: Publisher:
No Place Like Home
Realms Distribution
You may also like these games