Party Maker


Trainer & Cheats

by

Party Maker


Trainer & Cheats

by

Top 4 cheats in PLITCH
Free Cheats
Set My Cash
Set My Papers
Premium Cheats
Set Party Budget
Set Materials Quantity (Set to 0 to deactivate)
See all cheats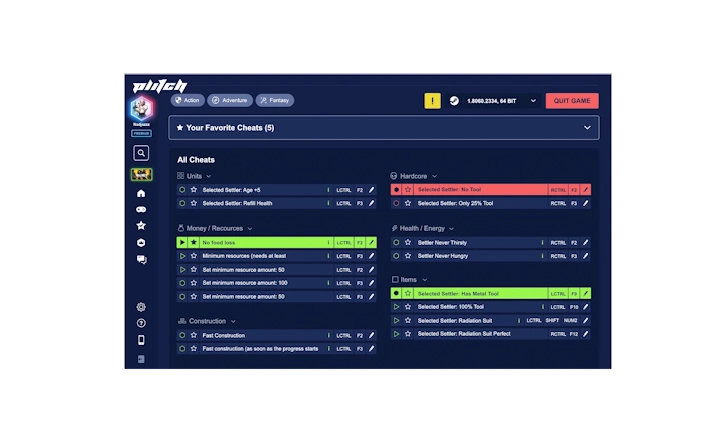 5 Cheat Codes
Party Maker
Download and install PLITCH.
Create a free or premium account.
Open the client, search for your game, and start PLITCHing.*
* You need to purchase Party Maker in one of the supported stores to use it with PLITCH.
Free Cheats for Party Maker
These cheats are for free and available for everyone.
Premium Cheats for Party Maker
These cheats are only available for premium users.
Set Materials Quantity (Set to 0 to deactivate)
FAQ and More
Party Maker – Plan the best parties ever
Event planning has never been so much fun! Party Maker lets you take charge of an event agency and plan amazing events in extraordinary places. Birthdays, weddings, bachelor parties, or Halloween fun - it's all up to you! Unleash your creativity as you prepare a place for your party. Then use what you find to make the event even more special. Use PLITCH's Party Maker PC cheats to get even more creative with your parties. With a little help from the cheat codes included in our Party Maker trainer, every party will be a blast!
Supported Stores*:
Developer: Release Year: Latest Trainer Update:
Forestlight Games
2022
1/13/2023
Full Name: Publisher:
Party Maker
PlayWay S.A.HeartBeat GamesForestlight Games
Developer: Release Year: Latest Trainer Update: Full Name: Publisher: Supported Stores*:
Forestlight Games
2022
1/13/2023
Party Maker
PlayWay S.A.HeartBeat GamesForestlight Games
You may also like these games