Remnant II


Trainer & Cheats

by

Remnant II


Trainer & Cheats

by

Top 4 cheats in PLITCH
Free Cheats
Increase movement speed
Decrease movement speed
Premium Cheats
Unlimited Health
Godmode
See all cheats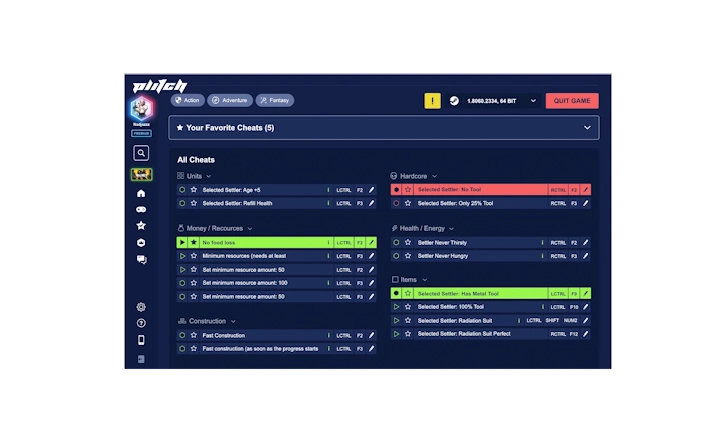 24 Cheat Codes
Remnant II
Download and install PLITCH.
Create a free or premium account.
Open the client, search for your game, and start PLITCHing.*
* You need to purchase Remnant II in one of the supported stores to use it with PLITCH.
Free Cheats for Remnant II
These cheats are for free and available for everyone.
Unlimited ammo (including dragon hearts)
Premium Cheats for Remnant II
These cheats are only available for premium users.
Reset Trait points to 0 (read description)
All weapons are automatic weapons
No materials decrease (including scraps)
FAQ and More
Remnant II - Save the human race from extinction!
In Remnant II, the thrilling sequel to Remnant: From the Ashes, you face a relentless battle against deadly creatures and formidable god-like bosses in chilling realms. As humanity's last hope, you must overcome terrifying trials and prevent the annihilation of reality, relying on your skills to survive. Will you be the one to thwart the impending doom and secure the future of mankind? With PLITCH's Remnant II cheats, you most certainly will! Just activate the cheat codes from our Remnant II trainer and nothing and no one will stand in your way.
Supported Stores*:
Developer: Release Year: Latest Trainer Update:
Gunfire Games
2023
11/30/2023
Full Name: Publisher:
Remnant II
Gearbox Publishing
Developer: Release Year: Latest Trainer Update: Full Name: Publisher: Supported Stores*:
Gunfire Games
2023
11/30/2023
Remnant II
Gearbox Publishing
Save the future of humanity with our Remnant II cheats
Never lose a boss fight again with PLITCH's Remnant II trainer
What can you do with the cheat codes from our game trainer?
Introducing the ultimate game trainer for Remnant II on PC, brought to you by PLITCH! Prepare for exciting single-player adventures with a delightful twist - cheat codes that unlock a world of positivity and fun!

PLITCH's Remnant II cheats will take your gaming experience to new heights. Unleash the full potential of your weapons with features like no reload and unlimited ammo, including dragon hearts, to ensure you never run out of firepower.

Boost your survivability with unlimited stamina and fine-tune your movement speed to suit any situation - whether it's increasing, decreasing, or sticking to regular movement speed.

For the true champions, the premium cheats offer unrivaled advantages. Enjoy impeccable aim with no weapon recoil and spread, making every shot a masterpiece. Turn all weapons into automatic arms and become an unstoppable force in battle.

Stay invincible with unlimited health and godmode, and improve your skills quickly with increased trait points and multiplied XP gains. Unlock your character's full potential with ease!

Don't worry about dwindling resources with PLITCH's Remnant II cheats; consumables and materials, including scraps, won't run out, so you can focus on enjoying the game.

Embrace the positive impact of PLITCH's cheat codes and enjoy the game to its fullest, conquering all the challenges that come your way!

Happy Gaming!
What makes the Remnant II cheats from PLITCH special?
Rule your realm your way: When it comes to gaming, everyone has their own style. PLITCH understands that. It's not just about breezing through the story or facing unbeatable odds - it's about putting you in control. With PLITCH's Remnant II cheat codes, you can shape the world you play in. Want to breeze through epic battles with unlimited ammo and no reloading? Or do you want to challenge yourself by slowing down your movement speed? PLITCH lets you set your own rules and make every moment uniquely yours.


Play fearlessly with no bans: Worried about the consequences of using cheats? PLITCH has your back. Our cheats are designed for single-player PC games, so there's no risk of getting banned or ruining the experience for others. Feel the rush of godlike power without any drawbacks.


State-of-the-art security and privacy: PLITCH takes your security and privacy seriously. Our cheats access your PC's RAM, ensuring they are safe and legal, and don't tamper with game files. Certified by trusted security brands, PLITCH is free of viruses and malware. And as a German company, we adhere to strict data protection laws, so your privacy is always protected.


Unrivaled customer support: When you start your gaming journey with PLITCH, you're never alone. Our exceptional customer service is always ready to assist you. Connect with us through our Discord server or forum, where you can share your experiences, request new cheats, and interact with other players. Your satisfaction is our priority.

Whether you're a Remnant II veteran seeking new challenges or a newbie looking to make your mark, PLITCH's game trainer and cheats offer a universe of possibilities. Download PLITCH today and rewrite the rules of Remnant II – your adventure, your way.
You may also like these games