Resident Evil 4


Trainer & Cheats

by

Resident Evil 4


Trainer & Cheats

by

Top 4 cheats in PLITCH
Free Cheats
Add Pesetas
Sub Pesetas
Premium Cheats
Add Gems
Sub Gems
See all cheats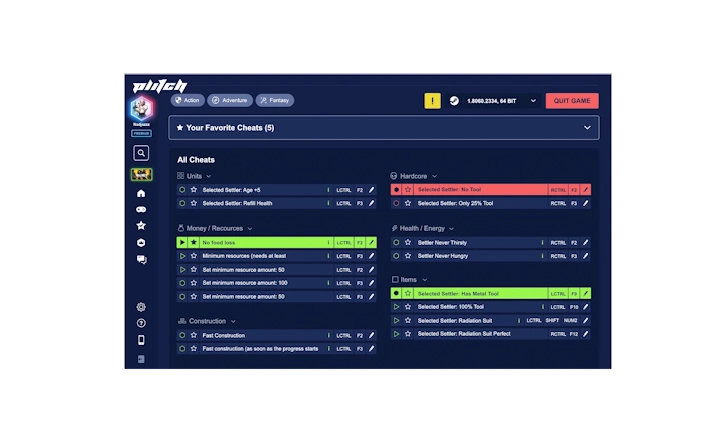 22 Cheat Codes
Resident Evil 4
Download and install PLITCH.
Create a free or premium account.
Open the client, search for your game, and start PLITCHing.*
* You need to purchase Resident Evil 4 in one of the supported stores to use it with PLITCH.
Free Cheats for Resident Evil 4
These cheats are for free and available for everyone.
Premium Cheats for Resident Evil 4
These cheats are only available for premium users.
Very low health (max 25%)
Unlimited durability (knife)
Reset save count (on save)
FAQ and More
Resident Evil 4 – Are you ready to relive the nightmare?
Welcome to Resident Evil 4, the survival horror video game that revolutionized the industry! Six years ago, the world was shaken by the biological disaster in Raccoon City. Agent Leon S. Kennedy, one of the survivors of the incident, is sent to rescue the President's kidnapped daughter and find out what's going on in a remote European village. Experience intense horror and gripping action with modernized gameplay and vivid graphics - what more could you want? If you have trouble surviving in this harsh world, PLITCH's Resident Evil 4 PC cheats are the way to go. With the cheat codes from our Resident Evil 4 trainer, you'll be safe in every situation.
Supported Stores*:
Developer: Release Year: Latest Trainer Update:
Developer: Release Year: Latest Trainer Update: Full Name: Publisher: Supported Stores*:
Capcom
2023
10/2/2023
Resident Evil 4
Capcom
Are you ready for intense horror?
Survive the dangerous world of Resident Evil 4 with our PLITCH cheats!
What does the Resident Evil 4 trainer from PLITCH have to offer?
Tired of struggling through Resident Evil 4 and getting stuck on difficult levels? Fear not, because PLITCH has got you covered with its Resident Evil 4 cheats. PLITCH is a reliable cheat tool that offers numerous cheats and codes to enhance your gaming experience.

With PLITCH, you can add gems, pesetas, and other resources that will help you navigate through the game with ease. You can also heal yourself and defeat enemies effortlessly. In addition, PLITCH's Resident Evil 4 cheats allow you to make the game harder with the codes "sub pesetas", "sub gems", or "low health". Are you up to the challenge?

PLITCH is easy to use and can be downloaded for free from our website. Our trainers are always up-to-date to ensure compatibility with the latest versions of Resident Evil 4 and other games. Plus, it comes with a user-friendly interface that makes it easy to customize your gaming experience.

So, what are you waiting for? Download PLITCH now and take your Resident Evil 4 gameplay to the next level with its comprehensive cheat features. With PLITCH, you can enjoy the game like never before and unlock its full potential.

Happy Gaming!
Here's why you should play Resident Evil 4 with our cheat codes!
Resident Evil 4, a legendary title in the gaming realm, just got a whole lot more exciting thanks to PLITCH's game trainer and cheat codes. As an avid gamer, here's why you should be excited:
Limitless customization: PLITCH is your gateway to personalized gaming experiences. Whether you crave intense challenges or seek a leisurely stroll through Raccoon City, our game trainer has you covered. Tweak Resident Evil 4 to your heart's content, whether you want infinite ammo or nail-biting low-health battles.
Legal and safe: Worried about legality and safety? Fret not. PLITCH operates within the confines of the single-player mode, never compromising multiplayer integrity. It's 100% safe, certified by leading antivirus providers, and complies with strict privacy laws.


User-friendly interface: Navigating PLITCH is a breeze with our intuitive client. Choose from multiple languages, set personalized hotkeys, or enjoy a seamless in-game experience with our overlay application. Mobile compatibility? We've got you covered.


Up-to-date patches: Worried about compatibility issues or updates breaking your cheats? PLITCH keeps its trainers updated religiously. No more waiting for patches or wondering if your favorite games are supported.


Stellar customer service: At PLITCH, we're not just a cheat provider; we're your gaming companions. Join our Discord server, interact with fellow gamers, and share your thoughts. Our exceptional customer service ensures that your gaming journey is smooth and enjoyable.
In a world overrun by infected horrors, PLITCH's Resident Evil 4 cheats let you play by your own rules. So, what are you waiting for? Dive into a new dimension of gaming today and rewrite the survival horror story!
You may also like these games