STAR WARS - Squadrons


Trainer & Cheats

by

STAR WARS - Squadrons


Trainer & Cheats

by

Top 4 cheats in PLITCH
Free Cheats
Refill health
Unlimited Missiles
Premium Cheats
Godmode
Unlimited shield
See all cheats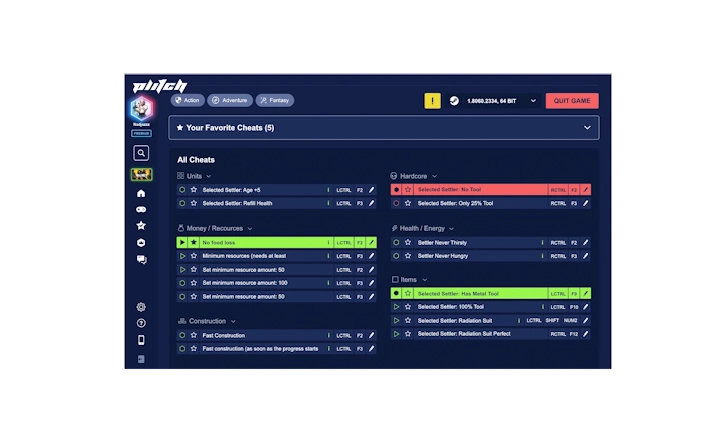 8 Cheat Codes
STAR WARS - Squadrons
Download and install PLITCH.
Create a free or premium account.
Open the client, search for your game, and start PLITCHing.*
* You need to purchase STAR WARS - Squadrons in one of the supported stores to use it with PLITCH.
Free Cheats for STAR WARS - Squadrons
These cheats are for free and available for everyone.
Premium Cheats for STAR WARS - Squadrons
These cheats are only available for premium users.
FAQ and More
STAR WARS: Squadrons - Now This Is Podracing!!
The action-video-game STAR WARS: Squadrons is a Star Wars pilot simulation. Finally, you have the opportunity to enter the cockpit of a starfighter from the Star Wars universe and fight for the Empire or the New Republic in authentic space battles. In STAR WARS: Squadrons you can fly for both sides. The game plays directly after the events of Star Wars: Return of the Jedi. The Emperor is dead and the New Republic tries to wipe out the last remnants of the Empire. Our exclusive PLITCH Cheats and Training-Codes will help you, no matter if you are in the cockpit of an X-Wing or a TIE Fighter!
Supported Stores*:
Developer: Release Year: Latest Trainer Update:
Full Name: Publisher:
STAR WARS - Squadrons
Electronic Arts
You may also like these games
Forum
STAR WARS - Squadrons