Witchfire


Trainer & Cheats

by

Witchfire


Trainer & Cheats

by

Top 4 cheats in PLITCH
Free Cheats
Infinite ammo
Set witchfire gain modifier
Premium Cheats
Unlimited Health
Easy kills
See all cheats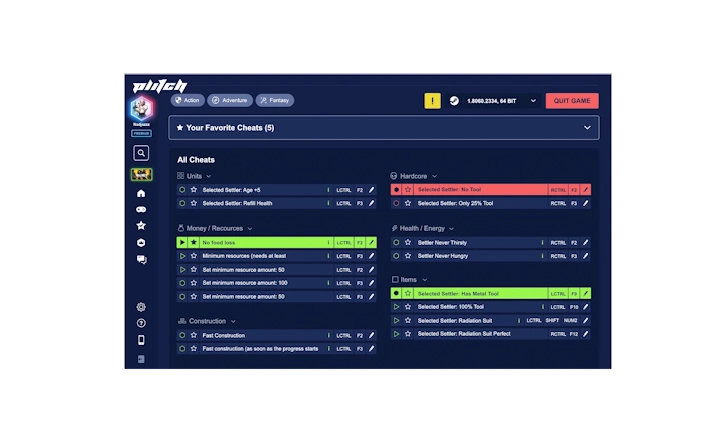 14 Cheat Codes
Witchfire
Download and install PLITCH.
Create a free or premium account.
Open the client, search for your game, and start PLITCHing.*
* You need to purchase Witchfire in one of the supported stores to use it with PLITCH.
Free Cheats for Witchfire
These cheats are for free and available for everyone.
Set witchfire gain modifier
Set walk speed (default: 600)
Set run speed (default: 800)
Premium Cheats for Witchfire
These cheats are only available for premium users.
FAQ and More
Witchfire - Wage a deadly war against witches
Witchfire is a dark fantasy roguelite shooter that combines strange weapons and forbidden pagan magic in a desperate battle against powerful witches. Created by the minds behind Painkiller and Bulletstorm, it offers a challenging gameplay experience with multiple paths to victory. Armed with powerful spells and Vatican-made firearms, players become immortal witch hunters tasked with defeating the infamous Witch of the Black Sea and changing the course of a deadly war. If you need help during your adventure, simply activate PLITCH's Witchfire cheats. The cheat codes from our Witchfire trainer will always have your back.
Supported Stores*:
Developer: Release Year: Latest Trainer Update:
The Astronauts
2023
10/20/2023
You may also like these games