Monuments Flipper


Trainer & Cheats

by

Monuments Flipper


Trainer & Cheats

by

Top 4 cheats in PLITCH
Free Cheats
Set Walk Speed (default 3)
Set Run Speed (default 7)
Premium Cheats
Add Budget
Set Budget to 0
See all cheats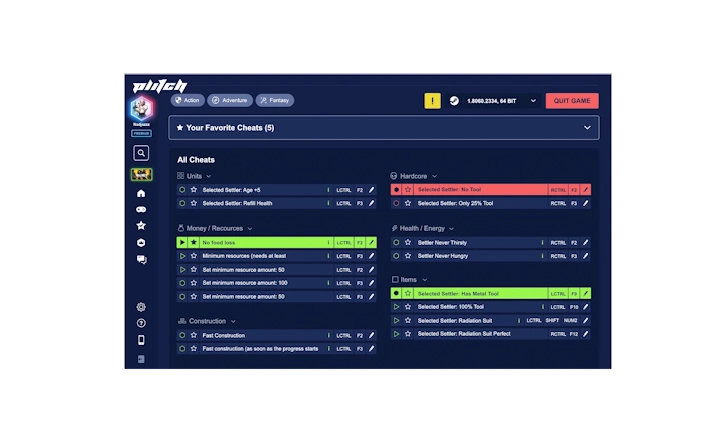 10 Cheat Codes
Monuments Flipper
Download and install PLITCH.
Create a free or premium account.
Open the client, search for your game, and start PLITCHing.*
* You need to purchase Monuments Flipper in one of the supported stores to use it with PLITCH.
Free Cheats for Monuments Flipper
These cheats are for free and available for everyone.
Set Walk Speed (default 3)
Set Run Speed (default 7)
Set Speed in Water (default 2)
Premium Cheats for Monuments Flipper
These cheats are only available for premium users.
Set Climb Speed (default 1.5)
Set Jump Height (default 7)
Set Jump Height in Water (default 5)
No Waiting Time for Time Points
FAQ and More
Monuments Flipper – Renovate the world's greatest monuments
Introducing Monuments Flipper, the game that lets you become a professional monument renovator! Choose from among some of the world's most iconic structures and set about restoring them to their former glory. Not only will you get to flex your creative muscles, but you'll also learn about history and architecture as you go. Does that already sound great? How about making it even better with PLITCH's Monuments Flipper PC cheats? Select the cheat codes you want to try from our Monuments Flipper trainer and have a unique gaming experience.
Supported Stores*:
Developer: Release Year: Latest Trainer Update:
Games IncubatorMonuments Games
2022
1/20/2023
Full Name: Publisher:
Monuments Flipper
Games Incubator
Developer: Release Year: Latest Trainer Update: Full Name: Publisher: Supported Stores*:
Games IncubatorMonuments Games
2022
1/20/2023
Monuments Flipper
Games Incubator
You may also like these games