Silmaris Dice Kingdom


Trainer & Cheats

by

Silmaris Dice Kingdom


Trainer & Cheats

by

Top 4 cheats in PLITCH
Free Cheats
Set Fate Points
Set Score (1=100)
Reset Fate Points to 0
Reset score to 0
See all cheats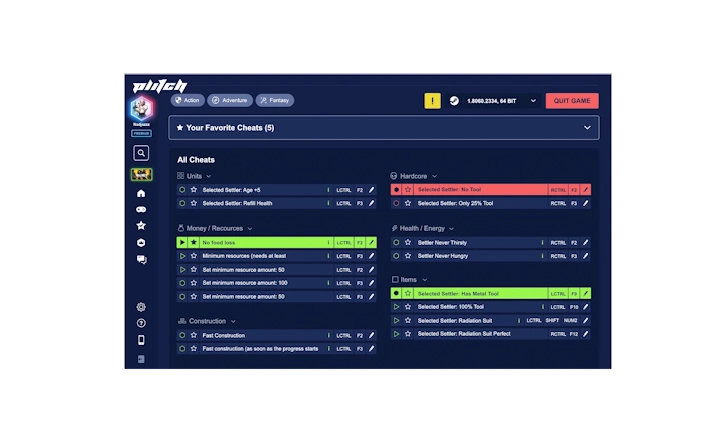 5 Cheat Codes
Silmaris Dice Kingdom
Download and install PLITCH.
Create a free or premium account.
Open the client, search for your game, and start PLITCHing.*
* You need to purchase Silmaris Dice Kingdom in one of the supported stores to use it with PLITCH.
Free Cheats for Silmaris Dice Kingdom
These cheats are for free and available for everyone.
FAQ and More
Silmaris: Dice Kingdom - The Fallen Kingdom!
In the strategy-video-game Silmaris: Dice Kingdom you have to help your kingdom to new power. You take over the crown of the fallen city of Thylla, which has lost its power to other kingdoms. Each of your actions is influenced by action dice. Will you restore your fallen kingdom through diplomacy or war? - Or will you find another way? However you do it, you will get the full support of our exclusive PLITCH Cheats and Training-Codes!
Supported Stores*:
Developer: Release Year: Latest Trainer Update:
Full Name: Publisher:
Silmaris Dice Kingdom
Mi-Clos StudioFractale
Developer: Release Year: Latest Trainer Update: Full Name: Publisher: Supported Stores*:
Pyrogen
2020
3/3/2022
Silmaris Dice Kingdom
Mi-Clos StudioFractale
You may also like these games